THOUSAND OAKS, Calif. – The Rams held their first of two joint practices with the Raiders on Wednesday, a session highlighted by defensive back Tre Tomlinson, wide receiver Tutu Atwell and linebacker Ernest Jones' performances.
Here are 10 things that stood out from it: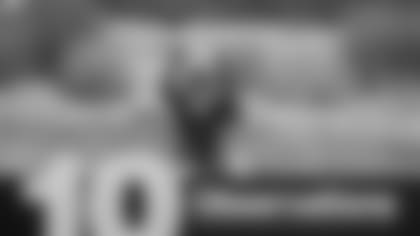 1) Rest day for Donald: Defensive tackle Aaron Donald had a veteran rest day and did not participate in today's joint practice. McVay said the team doesn't go back-to-back days with him in terms of managing him, and they also thought tomorrow would be a better day for Donald to go because of the work and schedule they have for tomorrow.
2) Noteboom only does some individual drills: Offensive lineman Joe Noteboom did not participate in team drills during today's joint practice because he's "dealing with a little something" right now, per McVay. Noteboom will not be practicing the rest of this week, according to McVay, who also said he didn't have any details beyond that.
3) More trial by fire for Tomlinson: Just as the Rams did in the preseason opener, rookie defensive back Tre Tomlinson was getting reps at outside cornerback and tested. Matched up with all-pro receiver Davante Adams during 11-on-11 drills, Tomlinson pushed Adams out of bounds before he could complete a catch. Adams got Tomlinson back a few plays later on a nice catch deep down the left sideline, then Tomlinson responded not long after with a pass breakup in the corner of the endzone.
4) Tutu making plays: Wide receiver Tutu Atwell had a couple of impressive catches during Wednesday's practice, hauling in a deep ball from quarterback Matthew Stafford near the sideline and also connecting with Stafford on contested catch in traffic off a play-action fake.
5) Byron bringing the heat: The were a few instances of rookie outside linebacker Byron Young putting his speed on display and generating pressure against the Raiders offensive line and quarterback Jimmy Garoppolo.
6) Jones making his presence felt: It was hard to miss Rams linebacker Ernest Jones, especially during 11-on-11 drills. At one point, he blew up a Raiders run play to the outside. Shortly thereafter, he charged up the middle for another run stop. He also got very good pressure on Garoppolo, but Garopollo – who, like all quarterbacks, was wearing a red non-contact jersey – got the ball out just in time to deliver a deep completion down the left sideline to Adams.
7) Ahkello says hello: Defensive back Ahkello Witherspoon during 11-on-11 had a strong pass breakup on a Garoppolo pass intended for Adams.
8) Rookies team up for stop: In 11-on-11, defensive end Desjuan Johnson brought the pressure on Raiders quarterback Aidan O'Connell, and defensive back Tanner Ingle quickly took advantage with a timely pass breakup that got the Rams defense fired up.
9) More pressure: Nose tackle Kobie Turner and outside linebacker Michael Hoecht worked together to generate pressure on Garoppolo that would've resulted in a sack.
10) Akers, Crosby removed from practice: McVay didn't see what happened between Rams running back Cam Akers and Raiders outside linebacker Max Crosby during one part of 11-on-11, but the altercation after a play resulted in both being removed from practice before it finished – Crosby returning to the Raiders sideline and Akers going back into the Rams' facility. McVay said that's the rule if that happens.
"If you're involved in it, you know, we're just kind of no tolerance," McVay said.
After both players were separated and removed, practice proceeded without any issue, and McVay said they were able to get accomplished what they needed to.