THOUSAND OAKS, Calif. – The Rams on Thursday held their second and final joint practice of this week with the Raiders this week, with defensive tackle Aaron Donald, quarterback Matthew Stafford and wide receivers Puka Nacua and Tutu Atwell's performances among the highlights from the session.
Here are 10 things that stood out from it: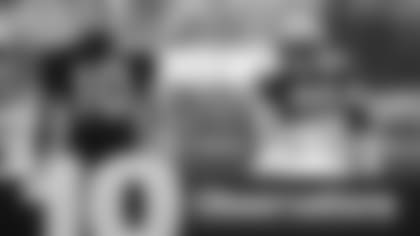 1) Donald back: After taking a rest day for the first joint practice on Wednesday, Donald was back in action on Thursday. He made his presence felt on a couple run stops in the backfield and also caused pressure on the interior that allowed defensive back Robert Rochell to break up Raiders quarterback Jimmy Garoppolo's pass over the middle during team drills.
2) Havenstein leaves practice with neck stinger: Rams offensive lineman Rob Havenstein walked off the field during team drills and did not participate in the rest of practice after sustaining what head coach Sean McVay said was a stinger in his neck, based on the early prognosis. "I think he's ok," McVay said after practice.
3) Extensive time at right tackle for Bruss during 11-on-11: With Havenstein sidelined for the rest of practice, second-year offensive lineman Logan Bruss took his place at right tackle. It was valuable experience for Bruss, who was often going up against one of the NFL's top pass-rushers in Raiders defensive end Maxx Crosby.
"When Rob went down, he had to step in, and you're going against one of the premier players in this league," McVay said, referring to Crosby. "And so I think there's some things that, you know, he's continuing to gain confidence, there's certain things that he's done at a high level, and there's things that we want to continue to see more consistency. So it's like anything else, you just got to continue to work at it."
4) Rochell coverage in 1-on-1: Defensive back Robert Rochell had a nice rep against Raiders wide receiver Jakobi Meyers, as Raiders quarterback Jimmy Garoppolo couldn't complete the pass intended for Meyers in the corner of the endzone thanks to Rochell's coverage.
5) Tomlinson coverage in 1-on-1 and 11-on-11: Defensive back Tre Tomlinson also had a nice rep in 1-on-1s, breaking up a pass by Raiders quarterback Bryan Hoyer near the corner of the endzone that was intended for wide receiver Isaiah Zuber. In one rep during 11-on-11, he broke up deep pass by Garoppolo.
6) Puka winning in 1-on-1: One of wide receiver Puka Nacua's best reps of the day came in 1-on-1s, when he beat Raiders cornerback Sam Webb to take advantage of a perfectly-placed ball by quarterback Matthew Stafford.
7) Stafford side-arm: One of Stafford's best passes of the day was a short side-arm completion to tight end Tyler Higbee as he was escaping pressure from Crosby. Stafford and Crosby had a friendly interaction after the play, perhaps in connection to Stafford's comments after yesterday's practice, when a smiling Stafford said "any time (Crosby) gets within five feet of me, he's yelling 'Sack!' in my face." Stafford also said Wednesday that "I'm not just an absolute statue back there. I can move a little bit."
8) Toe-tap Tutu: Wide receiver Tutu Atwell made an impressive touchdown reception on a short pass from Stafford during 11-on-11, making a toe-tap catch in the back of the endzone.
9) Fuller's pass-breakup and near-interception highlight stand near goal line for Rams defense: Defensive back Jordan Fuller had a strong end to Thursday's joint practice. When the Raiders offense was inside the 10-yard line, Fuller on the same series had an impressive pass breakup in the endzone on a Garoppolo pass intended for wide receiver Kristian Wilson. A couple plays later, he jumped in front of – and nearly picked off – a Garoppolo pass over the middle intended for wide receiver Jakobi Meyers.
10) Fun end to practice: The Rams' first-team defense and Raiders' first-team offense got in one final play before the end of Thursday's practice, a 4th down near the goal line with friendly stakes attached: Whichever side lost the rep had to do push-ups. Adams made an impressive catch in tight coverage on a pass from Garoppolo, but caught the ball out of bounds on the side of the plane, according to the officials.