Each week during the season, we interview a different Rams player to find out about their lives on the field as well as off of it. Team Reporter, Sarina Morales, asks the questions fans want to know, in a fun and conversational interview. This week, punter, Johhny Hekker, spoke to Sarina about fake punts, his reoccurring nightmare, and The Office.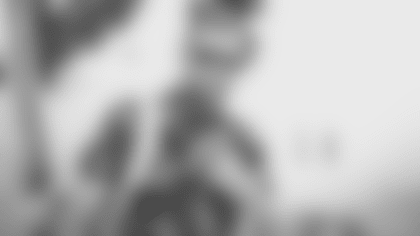 Sarina: You're known for your fake punts. Take me back to your first fake punt. Do you remember?
Johnny: My first fake punt, holy cow. I'm not sure if we ran the fake field goal against Seattle first, or one of the fake punts against San Francisco. I always remember my fake field goal against Seattle, because that one was against my hometown team, back home and it was for a touchdown. Oh, yeah. Tricked them really good.
Sarina: What year was that?
Johnny: My rookie year, 2012.
Sarina: Are those the games where you're going in like, "Yeah, you know what, I should probably show up a little more today."
Johnny: Yeah, you definitely want to. The thing I've found is the more you're going into those games trying to do too much, the worse you do. So, I try and just stay level-headed, just get out of the game, produce when I can.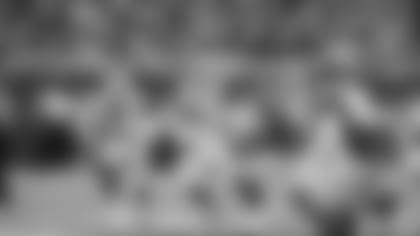 Sarina: Have you ever had a dream where you woke up and you're like, "Oh, my God, I'm a quarterback?"
Johnny: I have not had those ... I've had a dream that I played quarterback in a game, yes. I had one recently, actually. It was pretty funny. But I have way more dreams where I am in the stands watching the team, and then on fourth down everyone's looking for me and I'm in street clothes. And I wake up in just sheer panic. That happens a lot. That's a reoccurring nightmare for me.
Sarina: When was the last time you had that dream?
Johnny: Oh, man. I don't know. I usually block it out of my mind, but it happens pretty frequently. I'd say for sure once or twice in the last year.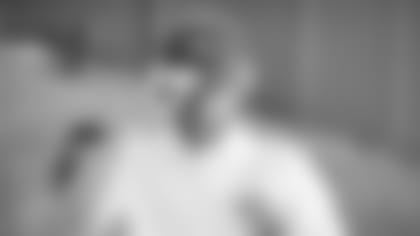 Sarina: Where did the name Jett come from?
Johnny: The name Jett for my son. My wife and I, we liked him having my same initials. We have the same middle name. It's my dad's middle name, Robert. And we wanted just a short J name, and looked through J names and found Jett and we liked it. And it's kind of athletic, cool sounding, hip and I think it describes him very well. He fits the name.
Sarina: Will Jett be a pilot, a quarterback, or a punter [when he grows up]?
Johnny: Probably a punter. He's already punting things all around the house. He punts his little basketball. I don't know, it's unbelievable. I think some of his hand, eye coordination is pretty good but, if he's like dad, I don't think he's going to want to be in school too long to go be a pilot. You never know. We will support him, whatever he wants to do. If he wants to be a punter, quarterback, running back, offensive guard.
Sarina: What have you learned about yourself being a dad?
Johnny: I definitely get a little more emotional watching movies. Definitely brings out a little bit of soft side. But, I didn't know how good I would be with diapers and like poop and pee and stuff. You just get over it. You're like, "Ah, well." You think, like okay, another little kid poops around you that's not yours you're like, "Oh, that's really gross and stinky, and I don't care about that." But, when it's your kid you just suck it up and make the mess go away.
Sarina: [Your wife] Makayla, do you guys have a date night?
Johnny: Yeah, pretty standard. Either like a movie or dinner. We'll try new restaurants every now and then. But, when you've got the meter running with your babysitter at home, you try and be efficient on dates.
Sarina: Eat that food faster!
Johnny: "Let's go, come on." We call in the order and just have it laid out on the table when we get there. Eat and go. (laughs) No. One thing we have done that was pretty cool was we got food from a deli, and then went up Las Virgenes, up the canyon, kind of half way into Malibu and just pulled over in one of those little turnouts and just looked at the mountains and ate dinner out of the back of the car. It was pretty fun.
6: Special Teams Connection
Sarina: Misconception of special teams. You tweeted: We're basically fans that get to play every now and then.
Johnny: Yeah. That's pretty true. Misconception is, I think, that we get picked on. I think some places the specialists get picked on, but here we're pretty well respected. But we've also been together for eight years. So, we've earned some respect around here. We're not getting picked on because we're specialists. People like us around here, which is fun.
Sarina: Is there a very special bond that you need to have with Jake McQuaide and Greg Zuerlein?
Johnny: Yeah, it's definitely a connection and a confidence in each other you have to have. Like, Greg has to trust me to get the ball down, and have it the way he wants it. I have to trust Jake to give me the laces around, like straight ahead. His snap has got to be on point, his protection and punt protection has to be great. His communication. Yes, there's a lot of co-dependence in special teams with us three, and yeah, it's been incredible to have the same three guys for eight years. The same special teams coach. And as tight as we are on the field, we're probably 10 times tighter off of it.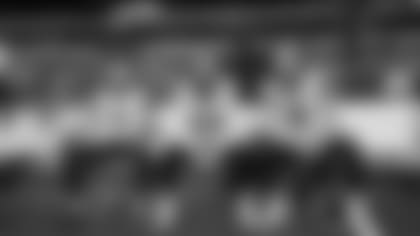 Sarina: What is a very weird or cool opportunity that you've had because you're an NFL player?
Johnny: I have flown in a Blue Angel, one of the jets. I flew in a Blue Angel and that was pretty much because I played in the NFL. There was a camera crew there. It was wild.
Sarina: Did you get sick?
Johnny: I didn't throw up. I was going to throw up, but the pilot realized that I was going to throw up, and then asked me, "Hey, we could do some more maneuvers, or we could start heading back." I was like, "I think heading back would be good."
Sarina: Holy cow. How fast do those things go?
Johnny: Very, very fast. It's a roller coaster times a hundred. It's unbelievable. It was wild. It was really fun. That was probably, definitely one of the most extreme things I've ever done. I fully expected to throw up or blackout. I almost blacked out, didn't throw up. I'm still alive, which is great and I think it's on YouTube too, if you want to see it.
Sarina: Best TV show of all time?
Johnny: Best TV show of all time, The Office. Hands down. I love The Office. I watch it habitually. It hasn't been on the air for years, but I just go through and rewatch the entirety. I love the Office.
Sarina: Have you done a prank to someone like The Office?
Johnny: I haven't, but I would love to do the prank when Jim replaces Dwight's desk with just paper. Yeah, just the holiday wrapping paper. That is the best.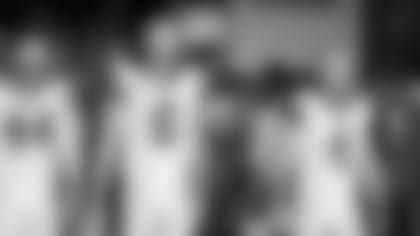 9: Rams Special Teams meets The Office
Sarina: The special teams group swaps jobs with an office, a standard office, like The Office, for a day. What duties does each person do in an office setting?
Johnny: Absolutely. Bones is the boss. He keeps work light and fun. He's like Michael Scott with a lot better vision. Better judgment. Better motivational skills, but we'd still have just as much fun. I would probably be a receptionist, because I like to talk to people. I could do some of the paperwork and stuff, but it would be mostly just passing it off to other people.
Johnny: Greg would just love to be left alone I think. Let me see, Jake [McQuaide] would be an assistant to the manager. Jake is like Bones' right-hand man. They game plan a lot together. Jake would be a great, kind of, go between for us lower-end employees to talk to the ... You know, mitigate some of the mess.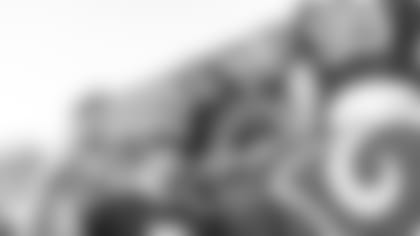 Sarina: What technology do you wish was invented, that doesn't exist yet?
Johnny: Well, if I was to invent something to get rich, it would definitely be any sort of thing just to get rid of toilet paper.
Johnny: Everyone needs toilet paper. Everyone uses it in the developed world. If you find some replacement to it, you'd be very rich. But a technology that I really wish was invented… I would love for driving to be autonomous. Too many idiot drivers out there. Let machines take care of it. If all the cars just drove themselves and had sensors and this and that, traffic would be a lot easier. And you just hang out, talk to people in your car. Chit chat, have a cup of coffee, get your work done. It would be like being on a train, but your own personal train. Bada bing.