Periodically over the remainder of the regular season, theRams.com will feature 6 Questions with 6Connex with a different player.
Up next is wide receiver and kick returner Brandon Powell, who discusses his "Be You" mantra, investing in real estate during his NFL career, his latest books he's been reading, and more.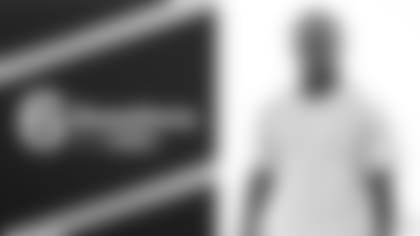 1) What is "Be You" and why is it important to you? I know I see you put it on your eye black all the time.
"I know they said I'll be fined for wearing it, but I don't care, I'mma still wear it. But it's like, it's just something to remind myself and people – it's a lot of little kids from back home where I'm from that look up to people like me, that if they want to make it out of their situation. So it's a reminder to them and myself, just be yourself. Go out there, have fun, be you, always don't forget just how you got here. That's why I write it on my face."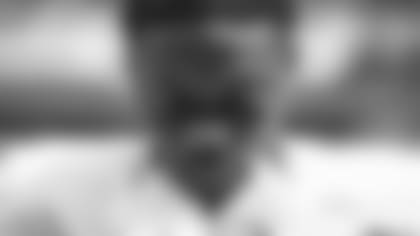 2) I saw you posting about real estate investments during the offseason. How did you get into that, and why is it important to you?
"It was just something that, being in the league for four years at the time, I was like, I really didn't have anything going on. I was at home for that month before I came to LA, I was jobless and everything. And I was like, 'Man, I gotta start doing something, put my money towards something.' I got into real estate and it was like, "Man, this is easy.' If you got the money to put up for it, why not just invest in real estate? And that's how I got into that."
3) A lot of fans remember you cradling and keeping with you the game ball from last year's game against the Vikings, when you had that 60-yard punt return for a touchdown. What did you end up doing with that ball?
"I got that one in my storage, actually. I'm waiting till I get my house house, get my man cave all set up, put it in there. So that's one, I'mma hold on to that one for awhile. That was my first real in-season – I got one in the preseason my rookie year, but that was my first in-season punt return (for a touchdown). I'm going to save that one for a long time."
4) I know you also mentioned reading "Attitude is Everything" last year. What drew you do that book, and why are books in general important to you?
"I think it's important to me (because), I'd never read books when I was little. It's a saying that they put stuff in the books because they know people won't read it, and it's actually true. Starting to read books, we're adults now, we're 27 years old, it's just trying to be a better person. Attitude is Everything, it taught me a lot, because for example, football, you come to practice happy and excited every day, you're gonna have a good day. You come here like, 'I don't want to be here,' you're going to have a bad day because you already got that mindset. So just trying to have a positive mindset, positive attitude about everything, and it's s been working out good for me."
5) Any other books you've been reading lately that you're enjoying, whether it's similar to Attitude is Everything or different?
"Oh, yeah. So I've been into financial books, like The Psychology of Money, that's a great book. But right now, I'm reading a book called A New Earth. It'll teach you about your egos, like how everybody has an ego. Everybody wants to be this perfect person, but we're human, we're not perfect. So that's just a book that's teaching me to control your ego. All of us, we're all equal, so just respect people and just try to get better every day."
6) What did it mean to be able to return to the Rams this year after the aforementioned certainty you were facing last year?
"It was refreshing for me. I had a whole offseason to just relax, man, because we got it done earlier, before OTAs and everything, so it was nice to just focus. One offseason where I didn't have to move around and find a new team, it was just, I knew I was coming back to LA. So it was nice. It helped me prepare for this year."
6Connex is a proud sustainability partner of the Los Angeles Rams and the leading provider of in-person, hybrid, and virtual event technology for enterprises worldwide. Their cloud-based product portfolio includes event management tools, in-person event apps, virtual venues, webinars, learning management, and more. Learn how 6Connex makes it easy to manage and host successful events at www.6Connex.com.