This week, wide receiver, Mike Thomas spoke to Sarina about how Chad Ochocinco influenced him, the best pizza in Chicago, and how he keeps his mind sharp.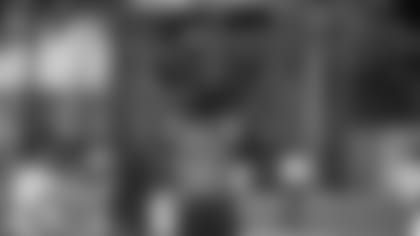 Sarina: Why the number 88?
Mike: That was my number I wore in college.
Sarina: We are playing Chicago, you're from Chicago. White Sox or Cubs?
Mike: White Sox. Because I grew up on the South side. Born and raised on the South side of Chicago, and I grew up about 10 minutes from the White Sox [Stadium].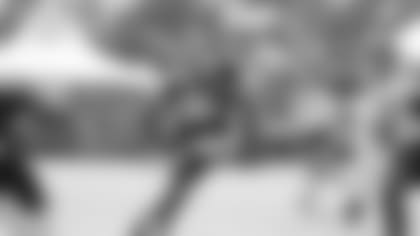 Sarina: Did you root for the Bears back then?
Mike: Yeah, pretty much. Honestly, since we [were] always in the area, a lot of Colts games used to come on, and I always used to have my #88 Marvin Harrison jerseys on. I was kind of like back and forth from the Indianapolis Colts to Bears because, you know, Peyton Manning, Reggie Wayne, and Marvin Harrison. I grew up watching those guys.
Sarina: Is this sacrilegious to say from someone from Chicago?
Mike: Nah, cause honestly I'm more of a player's fan.
Sarina: Growing up, who was your favorite football player?
Mike: Chad Johnson, he inspired me to play the game that I'm playing today. So honestly, if it wasn't for him I'd probably be a… I don't know, who knows?
Sarina: You guys have similar builds. Is that why? What do you see similarity-wise with Chad Johnson?
Mike: A lot of people were saying, I looked like him in high school, and that was my number, #85, so I was calling myself Chad Ochocinco too. Mike Ochocinco. They [were] hyping me up. I felt like my friends and my peers around me [were] hyping me up saying I play like him. My playing style was like him. So, at that point I ran with it.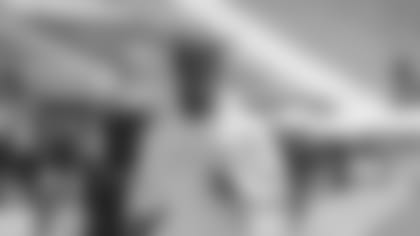 Sarina: Your hair is awesome. What would you call your hair style?
Sarina: What Chicago spot do you need to go to? Obviously you're playing at home this Sunday, but when you go back home, where do you have to go? What's the spot?
Mike: Honestly, [there's] two spots. You got Giordano's Pizza, which is a famous stuffed crust pizza, deep dish of course, and you got Harold's Chicken… mild sauce. We're known for our mild sauce, South side of Chicago. So those are the places that [are] mandatory I got to hit when I go back home for sure.
Sarina: Do you have a goal for the rest of the season?
Mike: Oh yeah, for sure. Walk away from each game healthy. Healthy as possible. That's always my goal. I've been through so much just battling injuries. So my main goal is to walk away, healthy as possible.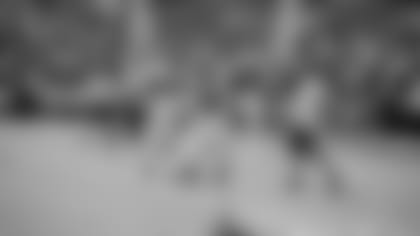 Sarina: Preseason, you're killing it. Special teams, you're killing it. How do you stay ready?
Mike: It's a mind thing. Each weekend and week out you have to be ready for anything [because] you never know what can happen during these games. So you just got to stay ready mentally. You never know when somebody can get hurt. Unfortunately, that's how this game goes. So when somebody [goes] down, you got to be ready to unload. It's just a mental thing for me, staying ready each week. Special teams wise, offensive wise, just all across the board. Just staying mentally in it.
Sarina: Last thing you ordered on Amazon/online?
Mike: Last thing I ordered from Goat.com. I ordered some Yeezy shoes. I'm a sneaker head.
Sarina: What advice do you have for Mike Thomas from the South side of Chicago?
Mike: If there was one thing, I'd say relax because sometimes I find myself over thinking, overreacting or just moving too fast, just thinking too fast. And sometimes I have to talk to myself, get myself prepped, talk to just relax, calm down, take a deep breath and just slow down basically.
Sarina: What's your favorite app on your phone?
Mike: Lumosity. It's like this brain game app. Brain games, just to keep me on my toes.