Each week during the season, we interview a different Rams player to find out about their lives on the field as well as off of it. Team Reporter, Sarina Morales, asks the questions fans want to know, in a fun and conversational interview. This week, linebacker, Samson Ebukam spoke to Sarina about the urgency to win the rest of the season, bringing back fashion from the 1930s and a getting two sacks against the Seahawks while being sick.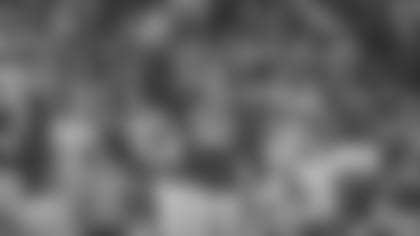 Sarina: Samson, two sacks against the Seahawks. You were sick that week. Was that your flu game? How much energy did it take you?
Samson: I don't know. If that's what people want to call it, then that's what it is. I just showed up to play. I [asked] God for that one because he [is] the one that helped me out. I prayed for it and you know, he answered my prayers. I was able to help the team win. That's always a blessing.
Sarina: Did you pray for a sack?
Samson: Nah, I just prayed for a good game. Just let me have a good game because I was exhausted. And he went above and beyond. So, happy about that.
Sarina: Getting a sack and being sick is…
Samson: I mean I don't ever want to use it as an excuse, you know? Because it's football, so you just got to show up. Like not everybody's going to feel good.
Sarina: That's fair… Sometimes you just get nicked up anyway. What's the difference?
Samson: You just got to show up and do the best that you can do.
Sarina: What has changed about this team, if anything, since the beginning of the season?
Samson: I mean there's a lot more urgency now. That's the only thing I can really point out. Other than that, we've kind of done everything the same way. We remain the course. Even keel. We can do anything. We can face any adversity.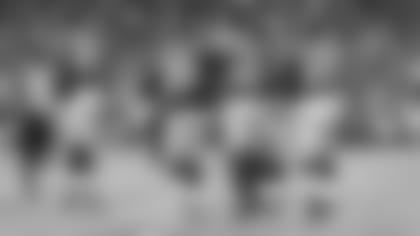 Sarina: We went on a taco tour this off season. What is your favorite taco?
Samson:. I don't have a favorite taco. If it tastes good, it tastes good. Just don't feed me octopus. No tongue. No, none of that. Regular tacos.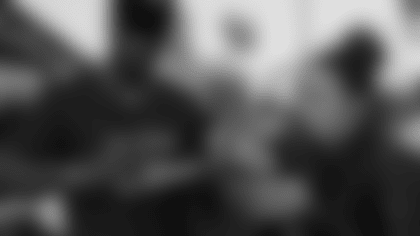 Sarina: How many ways has your name been mispronounced this season? (laughs)
Samson: I lost count. But it's like, it's really not hard. Like I understand it's a foreign name, but it's really not hard. In the words of coach Wade Phillips, "If it's important enough to you, you'll get it done."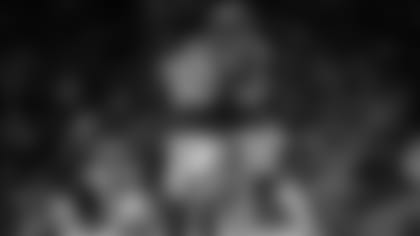 Sarina: How would you describe your sense of style? You sit here next to me in a hoodie and sweatpants. But, when you go in, you go in.
Samson: Oh yeah, if it's something important, I'm going to try to dress according to the occasion. If it's more free, I like dressing in some streetwear that's still laid back so I can be comfortable. If it's like suit and tie, then I'll come up with something, but I'm not really a suit and tie person. Like I could pull it off. But… I want to [be able to] move around.
Sarina: What's a style you want to come back?
Samson: Not even going to lie, I like that whole mafia look that they [had going on] back in like the 1930s. That [look] was clean.
Sarina: You're more on the quiet side when you talk to people. But when you're on the field, you rage. Where does that comes from?
Samson: The field is where I feel free so everybody gets to express themselves on the field. Once you play. For me, it's just a different side that comes out. But most of the time I'm more reserved. I'm still reserved on the field, I don't have any celebration or anything like that.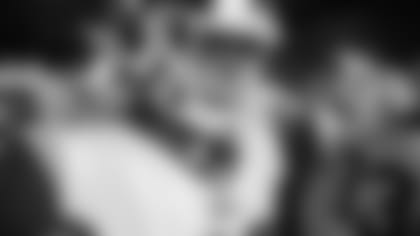 Sarina: What do people think you do when you get stopped? Like when you get stopped in the street. Do you get stopped on the street?
Samson: I'm a regular person.
Sarina: They think you're a regular person? You're like what… two [hundred] something [pounds]?
Samson: You see, I wear the same thing everywhere.
Sarina: You hide in sweatpants and hoodies.
Samson: Yeah, I try not to cause attention. I don't really care. I'd rather not get stopped because if I get stopped, stopped like [Todd Gurley], then you can't go anywhere. I like the balance of being able to go places and do stuff.
Sarina: But also live a full life of being a football player in the NFL. Because if you played any other sport you probably don't have this. There is a uniqueness about being on a roster with 53 other guys.
Samson: Exactly. There's so many of us. The fame goes along with it, but then a lot of fake people come along too.
Sarina: What do you think of someone like Todd Gurley and like how he manages all of it?
Samson: He does a great job, because I can't do it. That's too much. It's harder. It's already hard enough tell who's real and who's not. On his level, I feel like he just zones everything out. It's definitely harder on him than me so I don't complain.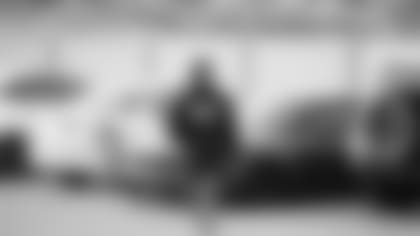 Sarina: You love your car. Why?
Samson: Because it was my first car.
Sarina: You had it when you were playing college or when you signed?
Samson: I was walking in college, bumming rides. Then I finally had an opportunity to buy a car. I was like, oh yeah, I'll look nice in a Challenger. One the name, and two, just the way that it sounds and the way that it looks.
Sarina: You decked it out. It's cool. It's like outer space looking.
Samson: I guess you can say that. If it just passes by, it's regular. But if you look at it, there's more to it than meets the eye.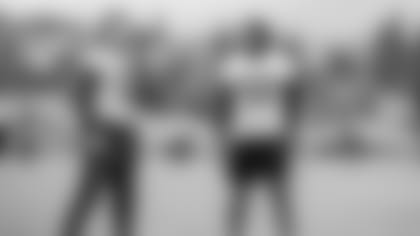 Sarina: What do you think of Clay Matthews hair?
Samson: It's dope. I'm like, dang, I wish I had long hair so I could just whip it back and forth. But it's pretty dope. He takes good care of it.
Sarina: He does take good care of it. I'm surprised it doesn't get knotted in games because he leaves it down.
Samson: That's why he puts all the water in it so it doesn't all tangle up.
Sarina: Ah, that's the secret. And then when he sweats its stays heavy.
Samson: Mm-hmm (affirmative). It's like, yo, that's nice. (laughs).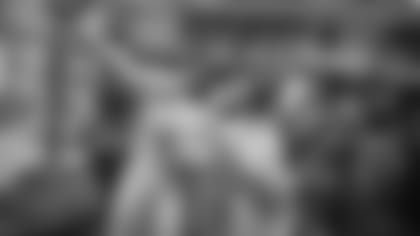 Samson: Call of Duty. Everything Call of Duty right now.
Sarina: Why do you love Call of Duty?
Samson: It's just what I've always played growing up and it reminds me of Modern Warfare Two. So everything's good. Animation is outstanding.
Sarina: What do video games do for you? Is it just zone out?
Samson: It's zone out. You get to have fun playing it. You don't have to worry about all the things going on inside the world and all that stuff. Us being in the season right now, my life is literally all football.
Sarina: Who is the teammate that's hardest to like, who's the best Call of Duty player on the team?
Samson: You know, that's kind of hard. I got to say I'm top three. Brockers is top three. And believe it or not, from what I have experienced, Liam, training room Liam is top three. (Liam Ireland is an intern in the Sports Medicine and Performance group)
Sarina: Intern Liam - what! I like that. That's some insider right there. Brockers and Liam.
Samson: He showed up out of nowhere. I'm like, who is this?