Each week during the season, we interview a different Rams player to find out about their lives on the field as well as off of it. Team Reporter, Sarina Morales, asks the questions fans want to know, in a fun and conversational interview. This week, center, Brian Allen spoke to Sarina about his love of singing, his dislike for touching people before games and donut floaties.
We're not all fat. There are some that looked like Andrew Whitworth. Brian Allen
Sarina: We know you're talented but what's something that we don't know about you. A hidden talent?
Brian: I can't say it's a talent, I just love to sing. I don't sing ... you know what I mean? But, if I'm alone, I'm always singing.
Sarina: Yeah? What's your go to (song)?
Brian: Whatever's on. Country, rap…
Brian: Hip Hop. Yeah if I know it.
Sarina: (Sings) Sweet sweet fantasy baby?
Brian: Don't know that one. Usher, I was just singing in the sauna.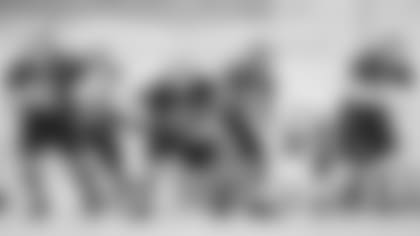 Sarina: Got any game day rituals?
Brian: I don't let anyone touch my hands. Like my right hand. I don't want anyone to touch my right hand.
Brian: Like in a game, if people give me a high five, I won't do that because it gets my hands sweaty and I don't like it.
Sarina: Straight fist bumps?
Brian: Yeah. Like if someone comes at me, I'll give them my left hand or I'll give him my wrist. It's not really a ritual, it's just something I do.
Brian: I mean, practice, everything. Yeah.
Sarina: I'll make sure to try and get a handshake out of you then.
Brian: I won't. I won't grab the water bottles, I'll make them do that. Or I'll do it with my left hand but I don't even like that. I don't like my hands being wet.
Sarina: Funny. So just even at home do you catch yourself doing stuff with your left hand.
Brian: No, just at football.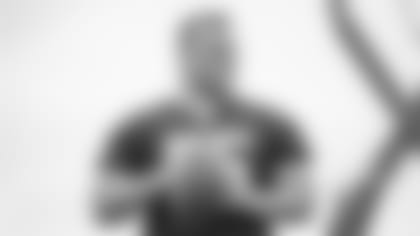 Sarina: Favorite athlete growing up?
Brian: Because he was on the Chicago Bears. I'm obviously from Chicago (Hinsdale, IL). And we share the first name so I thought that was cool when I was like seven or eight. When there was someone on the team who had my name, it sparked my interest in football.
Sarina: It's a common name.
Brian: Yeah but not in professional athletes. How many Brian's are there? Brian Cushing? Brian…
Sarina: Yeah, you're right. I can't think of many off the top.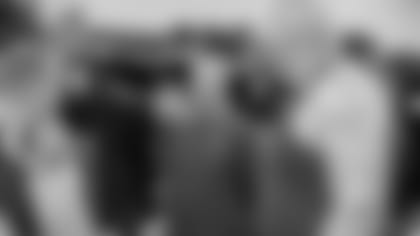 Sarina: Misconception about all linemen?
Brian: We're not all fat. There are some that looked like Andrew Whitworth.
Sarina: Last person you texted?
Brian: The gang group chat, which is comprised of all of my college roommates.
Sarina: Did they play football?
Brian: Seven of the nine did.
Sarina: And now? Are you the only one in the NFL?
Brian: The only one left.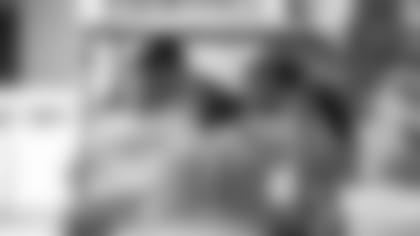 Brian: I sleep in my pool in a donut floatie.
Brian: Yeah. Is that an actual question?
Sarina: Yeah. I wrote donut floaties right there.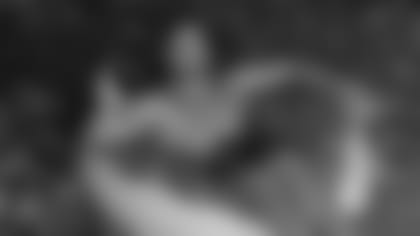 Sarina: What is he getting you for Christmas? Have any suggestions?
Brian: Hopefully a wave runner. I need a wave runner. My wave runner is a little outdated.
Sarina: He recommended boats. Would you be fine with a boat?
Brian: I already have a boat. I want a wave runner.
Sarina: I'll make sure I note that. What kind of boat?