ABC7's final Coach Cam segment for its preseason broadcasts featured Rams head coach Sean McVay, defensive coordinator Raheem Morris and general manager Les Snead all making in-game appearances.
Here are some of the highlights, with the full appearances available to watch below.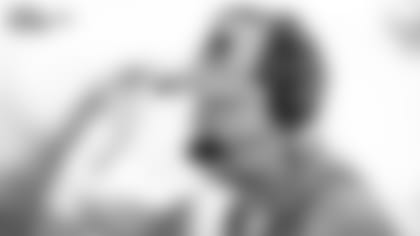 Making a "4-point play"
McVay joined for two separate drives – one offensive, one defensive. On the defensive series, he was on when the Rams made a goal-line stop to hold the Bengals to just a field goal. That difference of keeping them out of the endzone was what McVay called a "4-point play" prior to the defense making that stand.
"Excellent! I love that," McVay said, pumping his fist after Rams outside linebacker Keir Thomas II's third-down sack for a loss of 16 yards. "Great job Keir Thomas. He's a guy that has shown up, stout at the point of attack. That's a big stop right there."
"Thunder and lightning" defensive play-callers
Morris revealed on the broadcast that defensive line coach/run game coordinator Eric Henderson and pass game coordinator/defensive backs coach Chris Shula each have self-proclaimed nicknames of "thunder and lightning."
Morris was asked by Mina Kimes on the broadcast what differences he's noticed in Henderson and Shula as playcallers.
"But the differences in styles for these guys, Henny likes to be a little bit more aggressive, he loves to pressure, you'll see early-down pressures," Morris said. "When you get Shula out there, he'll be quicker with the coverage. He's protecting his guys, he'll try to call it from the back-end standpoint, he'll move it to the safeties down."
McCutcheon making it "easy"
Of note from Snead's appearance was the vote of confidence in rookie wide receiver Lance McCutcheon, an undrafted free agent signee out of Montana State who was one of the Rams' stars of the 2022 preseason.
After McCutcheon made a tough, competitive catch for a third-down conversion, Andrew Siciliano asked Snead how difficult McCutcheon is making his decisions at wide receiver and tight end.
"It seems like Lance is doing his part to make it easy," Snead said. "Because he's coming out and making plays. Some of the things he did in college is translating right here on an NFL field. He's doing his part, and here's what I do know: Sean likes receivers, so it's okay to have as many as possible in that room."