Nike makes great cleats that many of our Rams players love to wear during their games. However, what about after the game is over? Or when they are working out at home? Even though cleats are the footwear we see our favorite players in the most, it doesn't mean that they don't have an appreciation for their off-field kicks. After practice, we caught up with Los Angeles Rams LB Cory Littleton who gave us some insight on how he feels about Nike shoes and even an inside look on his favorite pair.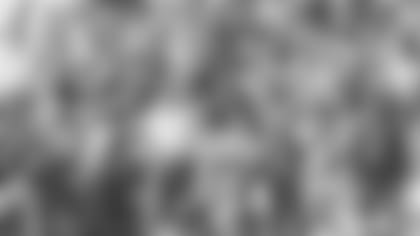 Q: What is your favorite Nike sneaker that ever came out?
A: "My all-time favorite classic is the Air Jordan 1s, high. It's just Mr. Reliable. If I can do something dope, it would be the off-white Carolina blue, off-white Jordan 1s, those are my favorites."
Q: If you only had one Nike shoe to wear for the rest of your life what would it be?
A: "I got a pair of Free Runs that will forever be my shoes. It's just something about the lightness."
Q: What special feature or quality do you like about Nike shoes the most?
A: "The thing I like the most is all the low-top light cleats. Those are my kind of go-to because it's something that's really flexible and they've got bend already without you having to really force the break in. That's why I like Nikes."
Q: Is it hard for you to find shoes that you like?
A: "I mean, if I'm going to the mall and I've got to buy a shoe for my big foot, yes. But for the most part, not really. When I do see something I like, I know what I like."
Q: If you had to choose between LeBron's signature Nikes or Kyrie's signature Nikes, which would you pick?
Q: Nike Air Force 1s or Nike Air Max?
A: "I'm going to have to go with the Air Force 1s, especially if they are all black. Those things are intimidating, scary. You don't mess with a person that wears them."
Q: Do you have any special-edition Nike shoes in your closet that only get worn on special occasions?
A: "My last favorite pair would be the graduation-prom (Jordan) 11s. I've worn those once since they've came out."
Q: If you were meeting someone who had never worn a pair of Nikes, what shoe would you recommend to them?
A: "VaporMax, easy. Comfy, I've got an all-white pair.
Comfort and flexibility are just a few reasons Littleton likes Nike shoes so much. Their ability to provide a variety of fashionable shoes on and off the field is why he has so much love for this brand.