As the Rams navigate free agency following their first Super Bowl appearance since the 2001 season, one thing has become clear — players want to be a part of what head coach Sean McVay and company have going in L.A.
And it's for reasons beyond — in addition to — the Southern California sunshine.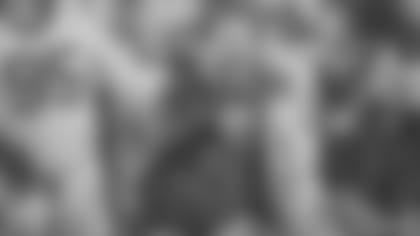 "First, it's great to be out in L.A., I think the weather and that city is outstanding," McVay told reporters from the NFL owners meetings in Phoenix. "Then it's our people and our players. We've got a lot of great players and their ability to produce on the field has attracted a lot of these guys because they feel like they have a chance to compete."
As for general manager Les Snead, the one charged with bringing the NFL's talent to the Rams and their facility on the Campus of California Lutheran University, located just off the 101, minutes from Malibu and the Santa Monica Mountains, the newest hip destination in professional football is a credit to the top person amongst the Rams' "people," in addition to the young head coach.
"I think it's also a good time to thank Stan Kroenke, our owner, in terms of having a vision to bring this franchise back to an iconic city, having the commitment to build an iconic stadium and all of those things — the sunshine, the iconic city, the stadium, it makes this a preferred destination," Snead said after introducing linebacker Clay Matthews.
"I also think Sean and his staff deserve a ton of credit as well, in terms of creating, designing, implementing, building, developing, executing an environment where we're capable of winning and guys like Clay, [safety] Eric Weddle, and [left tackle Andrew Whitworth] 'Big Whit' wanting to stay."
Of the Rams' three pickups off the free agency wire, each expressed high interest in joining the defending NFC Champs. For quarterback Blake Bortles, the interest was so high that he almost joined the Rams without a visit.
"[I] kept coming around to L.A. and the being with the Rams as the best place, organization, and spot for me to be for the upcoming year," Bortles explained. "A big part of that is coach McVay and what he's done the past couple of years there and getting the opportunity to be around him."
McVay was also on the frontlines of Weddle's pre-free agency decision to join the decorated secondary in his home state. For Weddle, a bumped-up visit turned into hours of conversation with McVay, already dreaming up ways to win in 2019.
"Initially, I was going to take trips to other teams and then circle back to L.A. last. That was the gameplan set kind of initially. Then it probably changed within a half an hour," Weddle said.
"This is really a great opportunity for myself to continue my dream and the challenge and desire to go out and be the best and to earn the respect of my teammates and the coaches and to earn a starting job."
By the time the Rams added Matthews, it was clear no surprise free agency signing or offseason move was off the table McVay's group. In Matthews' introductory press conference, the 33-year-old head coach was relaxed in his chair, facing the L.A. media, sitting next to his newest superstar. He leaned toward the microphone to tease Matthews, saying, "He really made me wait for a couple of days longer than what we're used to..." — after agreeing to terms less than a week into the league new year.
"As soon as my chance to return to Green Bay was past me, then I knew I wanted to come to the Rams. I put it on my agent, I put it on these guys here to try and get something done," Matthews said in response to McVay's banter. "It just seemed like a perfect fit."
A lot has gone into the transformation that hoisted the Rams from nearly a decade without a winning record to the top-of-mind position for players in search of a shot at Super Bowl glory. For McVay, it boils down to the people in players in L.A. For many the players, it boils down to him.
"Our culture is a representation of our players and our coaches and their ability to work together to try to be able and win games consistently and be able to respond to adversity the right way," McVay said.