Each weekday, theRams.com will be taking a look around the internet for the top Rams headlines of the day. Here's a look at what's out there for Tuesday, November 20th about your Los Angeles Rams.
REGULAR SEASON INSTANT CLASSIC
ESPN's Bill Barnwell thinks Monday night's game may have been the best regular season game of all time.
Here's what Barnwell had to say about the game's fourth quarter:
"What makes this game stand out is the sheer scope of the late-game drama. This is the only game on the list that had four lead changes in the fourth quarter, and that included the Chiefs coming back from a 10-point deficit at the beginning of the period. In most cases, when a fourth quarter had multiple lead changes, it usually included one team scoring at the very end of the game without leaving its newly trailing opponent a meaningful shot at winning the game. The Chiefs went down 54-51 with 1:49 left and actually had two realistic shots of setting up for a game-winning touchdown or a game-tying field goal, only for Patrick Mahomes to be intercepted twice."
Barwell's Top-10 Regular Season Games:
To view a recap of each game —including Monday's game — click here.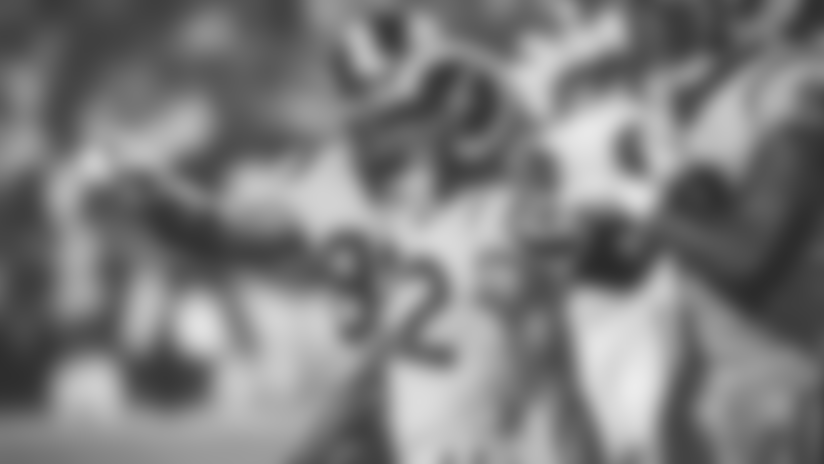 NFL.com's Kevin Patra, with the help of the NFL research department pulled every meaningful record, stat and superlative from Monday night's thriller.
Here are highlights of the Rams big night, per Patra:
» TheChiefsandRamsmatchup was the first game in NFL history in which each team scored 50-plus points. A.K.A. First game in NFL history in which the losing team scored 50-plus points.
» The teams combined for the third-most points (105) in a game in NFL history.
» The teams combined for 14 total touchdowns, T-2nd most in a game in NFL history. (TheBuffalo Billshave scored 13 TDs all season.)
» Jared Goffbecame the first quarterback inRamshistory with multiple career games of 400-plus pass TD and 4-plus pass TD. Only Peyton Manning (4) and HOF Dan Marino (3) have had more career games with 400-plus pass yards & 4-plus pass TD since 1950.
» Todd Gurleybecame the thirdRamsrunning back since 1950 to rush for 1,000-plus yards through the first 11 games of a season. Gurley joins HOF Eric Dickerson (1986, 1984, 1983) and Steven Jackson (2009). Gurley's streak of 13 straight games with a TD was snapped in Week 11 vs KC -- T-4th longest such streak since 1950.
» Josh Reynolds, replacing Cooper Kupp: 8 targets, 6 receptions, 80 receiving yards, 1 rec TD -- third receiving TD this season. Career-high in targets, receptions, and receiving yards.
» Aaron Donald(2 sacks) leads the NFL in sacks (14.5), QB hits (28), and tackles for loss (16) this season. Donald is only the third player this season to force multiple strip sacks recovered by the defense in a single game -- Joins DENVon Miller(Wk 7) and OAK Frank Clark (Wk 6).
» According to Next Gen Stats,Aaron Donaldaveraged 3.67 time to sack on his two strip sacks ofPatrick Mahomes-- Donald: 3.78 average time to sack this season (5th-fastest in NFL, min. 6 sacks).
» Samson Ebukam: 3 tackles, 1.0 sack, 2 QB hits, 1 INT return TD, 1 fumble returned for TD. Ebukam is the first player with a sack, interception and multiple touchdowns in a single game since sacks became official in 1982.
John Breech of CBSSports.com handed out his grades for Week 11's edition of Monday Night Football.
After playing nearly perfect football through the first 10 weeks of the season, Patrick Mahomes finally looked mortal against the Rams. Although Mahomes put up huge numbers (478 yards, six touchdowns), he was single-handedly responsible for turning the ball over five times (three interceptions, two lost fumbles) with two of those turnovers being returned for touchdowns by the Rams. Tyreek Hill also had a big game (215 receiving yards, two touchdowns), but like Mahomes, he made a couple of mistakes that he'd probably like to have back. In the fourth quarter alone, Hill cost the Chiefs some serious field position when he tried to return two different punts from inside his own two-yard line. Defensively, the Chiefs sacked Jared Goff five times and returned a fumble for a touchdown, but it wasn't enough to overcome Mahomes' five turnovers.
In an offensive shootout, it was the Rams defense that ended up stealing the show. Multiple defensive players came up clutch for the Rams, especially linebacker Samson Ebukam, who had a pick-six and a fumble return for a touchdown. Aaron Donald also came up big with two strip-sacks of Patrick Mahomes. Overall, the Rams defense forced five turnovers, including two interceptions of Mahomes that came in the game's final 90 seconds. As for the Rams offense, Jared Goff came up big with 413 yards and four touchdown passes, including a game-winning 40-yard scoring pass to Gerald Everett that came with just 1:56 left to play.