Each weekday, theRams.com will be taking a look around the internet for the top Rams headlines of the day. Here's a look at what's out there for Wednesday, July 17 about your Los Angeles Rams.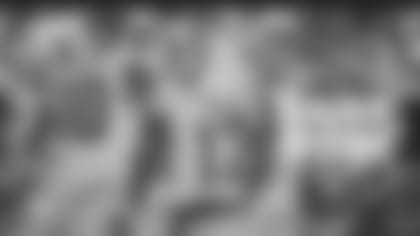 ESPN's Bill Barnwell ranks teams by their offensive weapons before each season. In 2018, the Chiefs came out on top. This year, it's the L.A. Rams.
It's worth noting that in 2017 Barnwell had Los Angeles at No. 29 and last year that vaunted up to No. 6.
Barnwell says his rankings do not include the impact of the quarterback, offensive line, or scheme. So this is purely taking into account the impact of the running backs, wide receivers and tight ends heading into 2019.
Here's what Barnwell has to say about why the Rams are No. 1:
Indignant Chiefs fans are likely yelling about Todd Gurley and Cooper Kupp right about now, and indeed, there are reasons to be worried about two of the Rams' stars. Kupp is returning from a torn ACL and should be active for Week 1, but it's impossible to say whether he will be the same guy who was on pace for 1,132 receiving yards and 12 touchdowns before blowing out his knee.
Gurley is a scarier proposition. The reports suggesting he is suffering from arthritis in his kneeseem to be accurate, and everything the Rams have done and said suggests that the days of Gurley taking 90-plus percent of the offensive snaps are over. Los Angeles is enthused about third-round pick Darrell Henderson, and ESPN college football guru Bill Connelly raved about Henderson's explosiveness before the draft, but Gurley was the best running back in football when healthy over the past two years. It's tough to imagine the Rams will get that sort of volume and efficiency from a combination of Henderson and an arthritic Gurley in 2019.
With that being said, this isn't a binary problem. Gurley probably isn't going to average nearly 23 touches per game or average five touchdowns per month like he did from 2017-2018, but he could still be a very useful running back in the range of 15-18 touches per week. That's less exciting for fantasy football, but it's probably better for the Rams, especially if Henderson delivers on the preseason hype. There's not much at tight end here, but when you think about just how deep the Rams are at wide receiver with Kupp, Brandin Cooks and Robert Woods, even 85% of the old Gurley is enough to propel the Rams to the top of the weaponry charts.
NFL.com put together a list of head coach power rankings heading into the 2019 season. The headline of the article reads in part, "Who follows Bill Belichick?" And that's for good reason. As author Elliot Harrison points out in the first line of his article, "Just about everyone agrees Bill Belichick is the premier head coach pro football today."
But how does the list shake out from No. 2-32? Well, Rams head coach Sean McVay comes out at No. 6 on the list.
Here's what Harrison has to say about him:
Every owner wants a Sean McVay to coach his football team these days. McVay's two-year success story speaks to his immersion in the family business of football, as well as his ability to draw off an excellent football mind and mental filing system to have his team better prepared than their opponents week after week. McVay's memory, ability to reach his players, and considerable energy has pushed the Rams to the playoffs in both of his seasons as the organizational front man, including a Super Bowl berth. To McVay's credit, he knows his place, too. He let Wade Phillips run the defense, and got out of the way. It was the defense, not the offense, that really shined this past postseason. The touchstone of McVay's primary focus and background -- the offensive side of the ball -- has been the noteworthy development of quarterback Jared Goff, who has tossed 60 touchdowns over the last two years. That's a dude people were calling a bust the year before McVay arrived.
McVay is behind No. 2 Pete Carroll, No. 3 Sean Payton, No. 4 Andy Reid, and No. 5 Doug Pederson. Harrison placed him above Super Bowl winning coaches John Harbaugh (No. 7), Mike Tomlin (No. 9), and Jon Gruden (No. 15).