Each weekday, theRams.com will be taking a look around the internet for the top Rams headlines of the day. Here's a look at what's out there for Tuesday, July 16 about your Los Angeles Rams.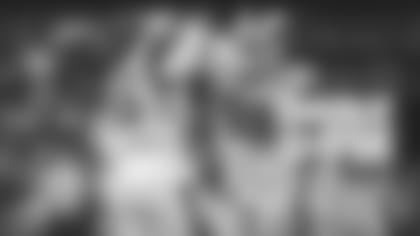 NFL.com's Bucky Brooks recently ranked the league's top defensive triplets and put the Rams at No. 4 on his list. As one might expect, defensive tackle Aaron Donald's performance over the last few years really boosts Los Angeles.
Via Brooks, 4) DT Aaron Donald, LB Dante Fowler Jr. and CB Marcus Peters or S Eric Weddle, Los Angeles Rams: The back-to-back Defensive Player of the Year is arguably the best football player in the league. Donald sets the standard for the Rams' defense with his endless energy and freakish athleticism. He's unstoppable at the point of attack and opponents must account for his whereabouts on every single play. Fowler finally showed flashes of being a top-five draftee when he teamed up with Donald after a midseason trade. Fowler took his game up a notch in the playoffs, as evidenced by his 1.5 sacks and persistent pressure off the edges. Peters didn't bring his A-game in 2018, but still finished with three interceptions to push his career total to 22 picks in just four seasons. Considering the pressure the Rams should be able to generate with Donald and Fowler pushing the pocket, we could see No. 22 swiping passes left and right in 2019. And if Peters doesn't tickle your fancy, how about the savvy six-time Pro Bowl safety L.A. just scooped up in free agency?
So Brooks had the Rams at No. 4 behind the Chargers, the Cowboys, and the Bears — which isn't bad. But discussing the list on NFL Network's Good Morning Football, Kyle Brandt took issue with the Rams' position on the list, saying they should be No. 1.
And, again, that's largely behind the strength of Donald, with Brandt saying he is the best defensive player and L.A. has put solid pieces around him.
WHERE GOFF RANKS TARGETING DIFFERENT POSITIONS
Pro Football Focus put together a comprehensive list of where quarterbacks rank in terms of passer rating when targeting different positions — outside wide receivers, slot wide receivers, running backs, and tight ends. The data is compiled from the last 10 seasons (2009-2018) with likely starters who have at least 800 passing attempts.
Overall, Rams QB Jared Goff is No. 8 at a passer rating of 101.5. Green Bay's Aaron Rodgers is No. 1 overall at a rating of 111.6.
Delving a bit deeper into the numbers, Goff is No. 1 when targeting running backs (106.8 rating) and No. 4 when targeting a slot receiver (107.4). Those numbers shouldn't be particularly surprising, since running back Todd Gurley has excelled as a pass catcher since head coach Sean McVay took over as offensive play-caller in 2017. And when it comes to the slot, wideouts Cooper Kupp and Robert Woods (who took over the position last year following Kupp's season-ending knee injury) have largely been Goff's go-to targets.
Goff is also No. 7 when it comes to targeting outside wide receivers (97.2). The only place where Goff ranks toward the back of the pack is targeting tight ends — which, really, also shouldn't be a surprise. Of the 22 quarterbacks on the list, Goff is No. 21 with a 94.0 rating when throwing to a tight end. That position as a whole has averaged just 53.5 receptions for 613.5 yards with four touchdowns over the last two years.