Each weekday, theRams.com will be taking a look around the internet for the top Rams headlines of the day. Here's a look at what's out there for Friday, January 25th about your Los Angeles Rams.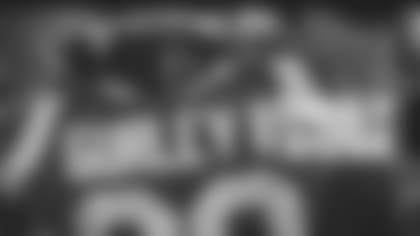 The Rams will wear the royal blue and sunshine yellow throwback jerseys against the Patriots in Super Bowl LIII. On Thursday, Sports Illustrated's Jonathan Jones wrote about the significance and superstition when it comes to jersey color in the big game.
Jones points out that the Rams wore white in its three previous Super Bowl appearances, including the Super Bowl XXXIV win back in 1999, and said the Rams can become just the third team in 15 tries to win it all in a non-white jersey.
"There's a ton of superstition when it comes to jersey color in this game. In the past 14 Super Bowls, the team in white has won 12 times. Only the Steelers in Super Bowl XLV and Patriots last year have not won the big game in white jerseys. The Broncos wore their white jerseys in Super Bowl 50 after posting a 0–4 record in the Super Bowl in orange jerseys."
The Eagles beat the Patriots 41-33 in Super Bowl LII — wearing green.
The Rams couldn't get much going in the Superdome on offense early in the NFC Championship game — until 4th-and-5 from the Los Angeles 30, when punter Hekker delivered a perfect spiral to cornerback Sam Shields, converting a fake punt for a first down and capturing the game's momentum.
On Thursday, ESPN's Lindsey Thiry wrote about what Hekker brings to head coach Sean McVay's Super Bowl-bound Rams. Here's a bit of what McVay had to say about his multi-talented specialist:
"He can make big-time plays," McVay said of Hekker, who has 20 pass attempts since 2012 including playoffs, the most of any non-quarterback during that span, according to ESPN Stats & Information. "He can do a variety of different things with that athleticism, not exclusive to throwing it, but also being able to run."
CBSsports.com's Barrett Sallee has some recommendations for any fans traveling to Atlanta for Super Bowl LIII. Sallee includes various suggestions of places to eat, drink, and enjoy in the city in his guide.
Here's how Sallee summed up the city:
"This isn't just a southern city anymore. While there are locals like myself who have been here for 38 years or longer, the 1996 Olympics and big business boom of the 1990's brought transplants from all over the country into our city, and that growth hasn't slowed since the turn of the century. Because of that, the culture in the city has transformed into a virtual gumbo of people from all places and walks of life."
Rams Hall of Fame offensive tackle Jackie Slater may have to root against his former club come kickoff in Atlanta, but for good reason. Slater's son, Matthew Slater, is an 11-year Patriot and will take the field in Super Bowl LIII in search of his third world championship.
Pro Football Talk's Michael David Smith captured Matthew Slater's comments on going against his dad's former team on Friday.
"I gave him a hard time, like, 'Are you going to be coming to this game in Ram attire, waving a Ram towel?'" Matthew Slater said. "We had a good laugh. Ultimately I'm his son and he's always going to support me and want to see me do the best I can and be successful. This coming weekend that will mean seeing the Patriots be successful, even against his old team."
Jackie Slater was a seven-time Pro Bowler and three-time All Pro. His No. 78 jersey is retired in Los Angeles.