Each weekday, theRams.com will be taking a look around the internet for the top Rams headlines of the day. Here's a look at what's out there for Tuesday, June 25 about your Los Angeles Rams.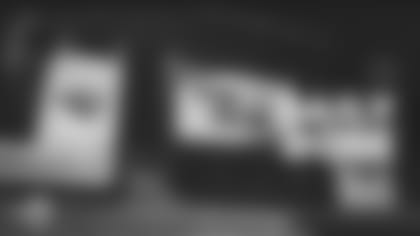 DONALD, GURLEY ARE BEST IN CLASS
If you've watched a Rams game in the last couple years, you know how integral both defensive tackle Aaron Donald and running back Todd Gurley have been to the club's success. Since the start of the 2017 season, Donald has recorded 31.5 sacks and 40 tackles for loss, en route to earning back-to-back AP Defensive Player of the Year awards. Gurley has racked up 3,924 yards from scrimmage and scored 40 total touchdowns in that same time period, receiving 2017 AP Offensive Player of the Year honors. 
So it probably shouldn't come as a shock that NFL Media's Adam Schein has named both Donald and Gurley the top player from their respective draft class, in his recent article naming the No. 1 man from each of the last nine NFL Drafts. 
From Schein on Donald, who was the No. 13 overall selection in 2014:
With all due respect to pass-rushing great Khalil Mack (now with the Bears, picked fifth overall by the Raiders), receiver Mike Evans (picked seventh overall by the Buccaneers), receiver Odell Beckham Jr. (now with the Browns, taken 12th overall by the Giants) and guard Zack Martin (picked 16th overall by the Cowboys), this one was easy. When it's all said and done, the league might have to name the Defensive Player of the Year award afterDonald, who's won it the past two years (in addition to being the Defensive Rookie of the Year in 2014). Donald is an unstoppable, tone-setting, game-changing force in the middle of the defensive line for the Rams. He posted 20.5 sacks last season, more in one year than any other interior defender in NFL history. The four-time All-Pro is special, mesmerizing and a joy to watch.
And here's Schein on Gurley, who was the No. 10 overall selection in 2015: 
This class is tricky -- and relatively weak. We are still waiting for quarterbacks Jameis Winston (taken first overall by the Buccaneers) and Marcus Mariota (picked second overall by the Titans) to truly arrive as starters in the NFL. You can make the case that running back David Johnson (taken in Round 3 by the Cardinals) will get back in this conversation; two years removed from a 2,118-scrimmage yard campaign in 2016, Johnson missed all but one game in 2017 with a wrist injury and struggled to make an impact in 2018, but now he's healthy and working with a new coach in Kliff Kingsbury. You could also argue that receiver Amari Cooper (picked fourth overall by the Raiders) will shine moving forward in Dallas, considering the numbers he put up (725 yards and six scores in nine games) after being traded to the Cowboys last October. And I love Chargers running back Melvin Gordon (Round 1, No. 15 overall).
But no player, not even Johnson, has been able to stay at the highest point reached by Gurley. A knee issue seemed to limit him last season, but when Gurley is healthy, he plays like an MVP. In the four seasons since he entered the NFL, no one has more rushing yards (4,547), scrimmage yards (6,430), total touchdowns (56) or touches (1,229) than Gurley.
Bleacher Report's Mike Tainer ranked the 10 most important players headed into the 2019 season, and Rams wide receiver Cooper Kupp -- who's coming off an injury-shortened season after tearing his ACL in Week 10 -- came in at No. 8 on the list. 
From Tainer: When Kupp was healthy in the first half of 2018, the Rams had the third-best passing game in the NFL, per Football Outsiders. After Kupp tore his ACL, the Rams passing game dropped to 12th. And you saw how easy they were for the Patriots to shut down in the Super Bowl. Sean McVay's three-receiver system relies on Kupp's slot versatility, along with Brandin Cooks' explosiveness and Robert Woods' rugged possession skills, to fire on all cylinders.
For the rest of Tainer's list, that finishes with a somewhat surprising name at No. 1, check out the full story on Bleacher Report here.