Each weekday, theRams.com will be taking a look around the internet for the top Rams headlines of the day. Here's a look at what's out there for Friday, March 8th about your Los Angeles Rams.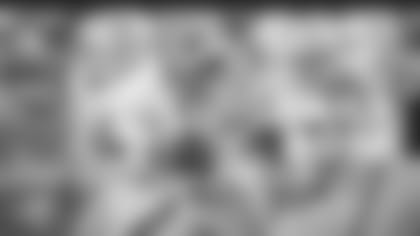 Defensive tackle Aaron Donald posted the best game of the year by an interior lineman Week 7 against the 49ers according to Pro Football Focus.
PFF's Ben Cooper broke down the performance earlier this week, highlighting Donald's efficiency.
"Donald's six total pressures on the day weren't anywhere near a career-best; He had just notched 12 the week prior. But they were wildly efficient, as it was the first time the fifth-year defender had accumulated four sacks in a single game."
Donald earned the league-high 95.4 grade and four sacks playing just 46 snaps.
NFL.com's Michael Fabiano ranked the league's top running backs based on scrimmage yards after contact and running back Todd Gurley's 730-total yards takes the No. 2 spot.
Gurley is second to only rookie Giants running back Saquon Barkley, who powered his way to 931 yards after contact with a defender.
Here's Fabiano's take on Gurley:
2. Todd Gurley, Los Angeles Rams (730): "Gurley missed two games due to a bum knee, but he was very productive when on the gridiron. He ranked third in rushing yards after contact (617) and 12th in receiving yards after contact (113), and nearly 50 percent of his rushing yards came after contact. Reports that the Ramswill scale back Gurley's workload in 2019 are a huge concern, however."
SUH'S POTENTIAL LANDING SPOT
CBSsports.com's Cody Benjamin forecasted five potential landing spots for defensive tackle Ndamukong Suh, who wrapped up his one-year deal in Los Angeles with a trip to the Super Bowl.
With Suh set to become a free agent next week, Benjamin says that it's not impossible that the veteran could land back in L.A. — if not with the Browns, Colts, Seahawks, or Titans.
Here's Benjamin's case for Suh re-signing in L.A.:
"Boring? Maybe. But the Rams check all the same boxes that they did when Suh signed with them a year ago. It's not surprising that Los Angeles is likely going to let the big man test free agency. After all, they should be aiming to draft interior prospects anyway."