This offseason, theRams.com will be taking a look around the internet for the top Rams headlines of the day. Here's a look at what's out there for Wednesday, July 18th about your Los Angeles Rams:
THREE RAMS KEY TO POSTSEASON GLORY
The Rams are heading into the 2018 season with the highest expectations in recent memory. In order to meet and exceed these expectations, the Rams will likely need contributions from players beyond the likes of Jared Goff, Todd Gurley, Aaron Donald, and the newly extended Brandin Cooks.
Vincent Bonsignore of the Los Angeles Daily News selected three lesser-known Rams who must deliver this season in order for L.A. to win the Super Bowl
"If the Rams can get double-digit sack totals – think 10 or 11 – and a consistent defender against the run, he will have delivered an acceptable season. The Rams are loaded at various spots defensively, so Ebukam doesn't need to be Lawrence Taylor. He just needs to be consistent alongside Matt Longacre, the early favorite to claim the other starting OLB job."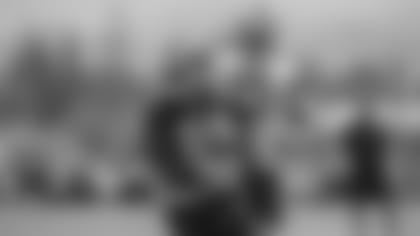 "Don't expect the Rams to dramatically deviate from their "11" personnel usage – the Rams want the explosiveness of Gurley, Cooks, Robert Woods and Cooper Kupp on the field – but Everett showed this offseason he is ready to take a decisive step forward. A more mature understanding of the offense and opposing defenses, coupled with the focus opponents will direct to his talented teammates should mean plenty of opportunities for Everett to put his size, athletic ability and speed on display as a reliable target for Goff. If so, the Rams offense will be even scarier."
ILB CORY LITTLETOILB CORY LITTLETON
Enter Littleton, a third-year player out of Washington whose claim to fame thus far is being a special teams force who continually opened the eyes of the Rams coaching staff last year. In fact, as the year wore on, Phillips and his staff were scheming up ways to get Littleton onto the field to take advantage of his playmaking ability. He finished with 18 tackles and one sack, but the Rams are convinced he will break out with extended playing time."
For Bonsignore's full analysis of these three Rams, click here.
ROSENTHAL TABS GURLEY AS TOP 3
Gregg Rosenthal of NFL.com ranked the league's top running backs this week. Rams' rusher Todd Gurley took third on Rosenthal's list, behind Ezekiel Elliott (No. 1) and Le'Veon Bell (No. 2).
"The Rams helped reverse the trend of top-shelf backs falling on draft day by selecting Gurley 10th overall in 2015, which is an incredible bargain, given that there are two years still left on his rookie deal (including the fifth-year option for 2019). In a passing league, defensive coaches facing the Rams start their game plans with how to stop Gurley. It didn't help much, as Gurley still led the league in yards from scrimmage and rushing/receiving touchdowns."
For Rosenthal's complete list and analysis, click here.
Gurley took to Twitter on Tuesday to congratulate his buddy, Los Angeles Lakers' sophomore guard Josh Hart on his NBA Summer League MVP selection.
A year ago, Hart attended Rams training camp in Irvine, CA, where he picked up signed throwback threads.
Hart and the Lakers fell to Portland in the Summer League Final Tuesday night, 91-73 in Las Vegas. Hart averaged 22.4 PPG this summer.