Each weekday, theRams.com will be taking a look around the internet for the top Rams headlines of the day. Here's a look at what's out there for Tuesday October 23rd about your Los Angeles Rams.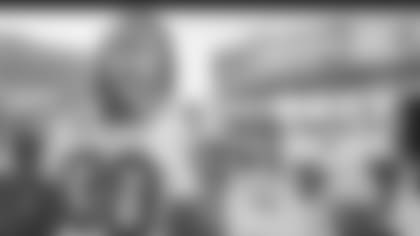 The Ringer's Robert Mays laid out RB Todd Gurley's early case for MVP on Monday. Mays points out that Gurley's MVP bid is an unlikely one from the start, seeing as the past five, and the past 10-of-11 MVPs have been quarterbacks. However, Mays points to just how valuable Gurley is to head coach Sean McVay's offense — specifically in play action scenarios and in the red zone.
"On the season, Gurley has 43 red zone carries, 18 more than the next-closest running back, and he's handled 93.3 percent of the Rams' carries inside the 10-yard line, which is one of the highest marks in the league. When McVay gets near the goal line, he lets his best offensive weapon do the work, and typically that ends with him hitting pay dirt a couple of times a game."
Mays also says that despite Gurley's incredible pace to finish with the NFL record for single-season touchdowns, it might be difficult to win over voters who are both focused on quarterbacks, and see running backs as replaceable.
"If Gurley continues at his current pace, he'll finish the year with more than 2,250 yards from scrimmage and 32 touchdowns. Statistically, those numbers would be more than strong enough for him to win MVP. The challenge will be convincing voters that Gurley transcends the typical discourse about running backs."
In his recent article, 'Who Was That? Unheralded players who shined in Week 7', ESPN's Cameron Wolfe picked five unlikely stars from Week 7. Wolfe included both LB Cory Littleton and CB Tory Hill in his list.
Here's what Wolfe had to say about the pair:
Cory Littleton, LB, Los Angeles Rams: Two sacks and a blocked punt in 39-10 victory over 49ers
Why it matters: There is a lot of attention placed on the big-name stars on the Rams' offense and defense, but there are many others making huge impacts and doing some of the dirty work. Littleton blocked his second punt of the season, which the Rams recovered for a safety. He also feasted on C.J. Beathard, recording two sacks.
Troy Hill, CB, Los Angeles Rams: Interception replacing Aqib Talib in 39-10 victory over 49ers
Why it matters: Hill bounced back from a rough outing against the Broncos to intercept a pass from Beathard. He jumped the route and caught the ball as he went to the ground. Teammates yelled, "Get up, return it!" As Talib continues to sit on injured reserve, the Rams will need Hill to continue to step up.
DT Ndamukong Suh joined Bleacher Report Live on Tuesday to talk soccer. Suh, whose father played professional soccer in Germany, said that he eventually switched to American football when he became too big and received too many red cards.
Suh has 20 tackles and 3.0 sacks this season.