Each weekday, theRams.com will be taking a look around the internet for the top Rams headlines of the day. Here's a look at what's out there for Tuesday, January 8th about your Los Angeles Rams.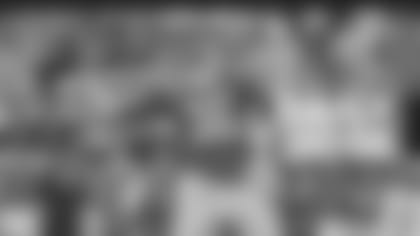 USA TODAY's Nate Davis previewed the Rams and Cowboys clash in the Divisional round on Tuesday. Davis says to keep an eye the battle between running backs Todd Gurley and Ezekiel Elliott, defensive tackle Aaron Donald against the shaky Dallas O-line, and the young quarterback competition between Jared Goff and Dak Prescott.
Here's some of what Davis had to say about each matchup:
1. Return of the back: As much as the NFL has come to be defined by the pass, these clubs' best offensive players are their tailbacks. Gurley led the league with 21 TDs, and is a Swiss Army knife who's effective running the ball, catching it or pass blocking for QB Jared Goff. And, yes, he's now got relief available after Anderson rushed for 299 yards in his two starts. On the other side, Ezekiel Elliott just won his second rushing title with 1,434 yards, has led the NFL in yards per game on the ground in all three of his seasons and chewed up Seattle for 137 more and a touchdown in the wild-card round.
2. Donald vs. Cowboys blocking: Rams wrecking ball Aaron Donald is almost certainly headed to his second defensive MVP award after recording a league-best 20½ sacks, most ever by an interior lineman. He'll likely be more than a handful for the Cowboys, especially given Dak Prescott was sacked 56 times in the regular season, most among NFC quarterbacks.
3. Young guns: Prescott will probably have to do even more against the Rams considering No. 1 WR Amari Cooper faces a tough assignment against CB Aqib Talib. Prescott may have to try and use the aggressiveness of Donald and Ndamukong Suh against them and exploit running lanes given the way those linemen look to get upfield quickly. On the other side, Goff could quickly find the game on his right arm if Gurley struggles physically and/or has a hard time cracking the Dallas defensive wall.
NFL Research tweeted to one of Davis' points on Tuesday, pointing out a potentially favorable matchup for the Rams interior rushers — specifically Donald — against the Cowboys offensive line. According to NFL Next Gen Stats and Pro Football Focus, Prescott has taken 21 sacks from an interior rusher this season.
Pro Football Focus tweeted a tale of the tape for Saturday's QB battle in the L.A. Memorial Coliseum. Both members of the 2016 draft class, Goff (No. 1 overall) and Prescott (No. 135 overall) offer similar numbers through three professional seasons.
David Carr and Scott Hanson of the NFL Network previewed another key matchup in Saturday's game. Carr says the Cowboys' ability to move the ball against the L.A. defense may come down to wide receiver Amari Cooper beating veteran corner Aqib Talib. Carr points out Talib's success against Cooper over the years in the AFC West. As a Raider, Cooper had just one catch against Talib since 2015.