Each weekday, theRams.com will be taking a look around the internet for the top Rams headlines of the day. Here's a look at what's out there for Friday, December 28th about your Los Angeles Rams.
The stakes are high for the Rams in the final game of the regular season. Pro Football Talk's Mike Florio laid out L.A.'s clinching scenario on Thursday, and if things don't go as planned for head coach Sean McVay and company, the Rams could be in for a tough run at the Lombardi Trophy.
"While the Rams have won the NFC West and will play at least one postseason game at home, their Week 17 finale against the 49ers carries with it very high stakes. If the Rams beat the 49ers, the Rams will secure the No. 2 seed and the first-round bye that goes along with it. If the Rams lose to the 49ers, and if the Bears beat the Vikings, the Rams will fall to the No. 3 seed.
And here's what that will mean, assuming the Eagles beat Washington: The Rams will face the Eagles in the wild-card round. If the Rams win, they'll return to Soldier Field for the divisional round."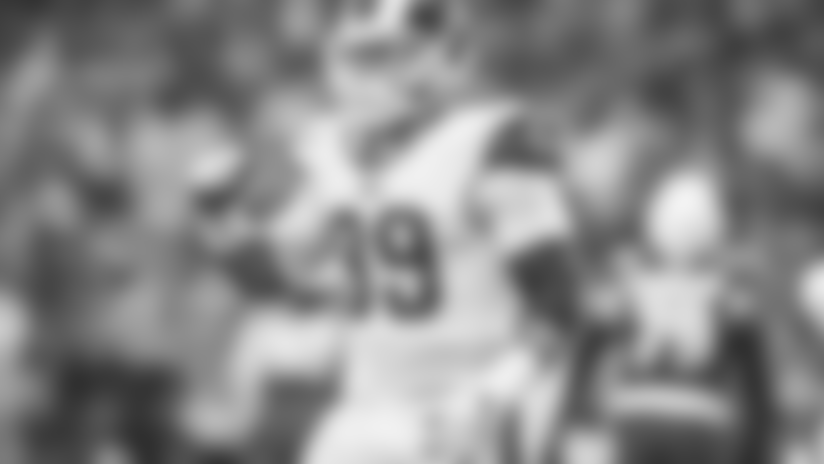 Defensive tackle Aaron Donald is 3.5 sacks from breaking former Giants defensive end Michael Strahan's NFL single-season sack record (22.5).
Strahan told the Los Angeles Times that he's hopeful that Donald breaks his 17-year-old record.
"The sack record is fantastic and it's great," Strahan told Sam Farmer and Gary Klein of the Los Angeles Times. "But I hope Aaron does break it. There have been guys who have gotten close, but I just want it to be a good guy who breaks it. Not some jerk, or some guy who doesn't care about it or take pride in what he does and just kind of luckily rolls through."
On Friday, NFL.com's Herbie Teope took a closer look at Donald approaching the record and his reaction to Strahan's comments.
ESPN's NFL Nation reporters made their picks for Sunday's season finale and both Lindsey Thiry and Nick Wagoner are going with the Rams.
Nick Wagoner's pick: The 49ers have won four consecutive Week 17 games against the Rams, but there hasn't been much at stake in most of those matchups. This time, the Rams might need a win to sew up a first-round bye, depending on what the Bears do in their finale. Unlike last year, Los Angeles likely will play its starters the whole game, which means the Rams should have a clear advantage in this one. Rams 30, 49ers 20
Lindsey Thiry's pick: The Rams are motivated in Week 17 to secure a first-round bye, to continue to tune-up their offense and to help defensive tackle Aaron Donaldbreak the single-season sack record. Donald tallied a career-best four sacks earlier this season against the 49ers and needs three sacks to tie and four sacks to break Hall of Famer Michael Strahan's single-season sack record of 22.5.Rams 32, 49ers 17