Each weekday, theRams.com will be taking a look around the internet for the top Rams headlines of the day. Here's a look at what's out there for Wednesday, June 26 about your Los Angeles Rams.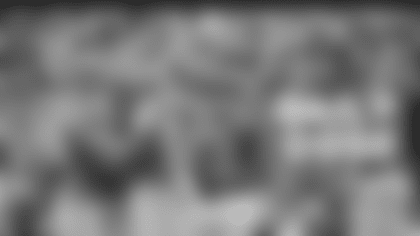 Pro Football Focus and ESPN teamed up to publish a ranking of the NFL's best rosters from 1-32 heading into the 2019 season, and the Rams came in at No. 2 -- behind only the Super Bowl champion Patriots.
For each team, PFF pointed out a biggest strength, biggest weakness, and X-factor for 2019.
Biggest strength: Aaron Donald finished each of the past four seasons as the league's highest-graded interior defender. And last year was Donald's best season yet, as he earned a monstrous overall grade of 95.0 and recorded a mind-boggling 113 total pressures to lead interior defensive linemen by a handsome margin in both categories. He is a one-man wrecking crew, which will continue in 2019.
Biggest weakness:It's tough to find a weakness on the Rams' loaded defense, but collective run defense is probably it. Sure, they have Donald, but it wouldn't hurt to get better against the run at other positions. Consider that the Patriots gained 154 rushing yards in the Super Bowl, and forced seven missed tackles. Aside from Donald, only one other Rams front-seven member earned a run-defense grade above 80.0 last season. That was Ndamukong Suh, who has left town.
X factor for 2019:Jared Goff is coming off a great season in which he earned an overall grade of 84.3, ranking eighth among quarterbacks, but struggled mightily in the Super Bowl loss to the Patriots. The Rams have an excellent coaching staff, a loaded roster and Super Bowl experience, but they will get only as far as Goff allows them to. The NFL is a quarterback-driven league, and if Goff can continue to improve, the Rams might get back to the big game. Goff's clean-pocket passing ability ranked third in overall grade in 2018 and is an extremely strong and stable metric for looking at year-to-year production.
Rams cornerback Ramon Richards recently returned to his hometown of San Antonio to host a football clinic for the Eastside Boys and Girls Club.
"Me, my sister, my brother, my mom and dad, we grew up in this area and we always talked about one day we would give back," Richards said at the event, via FOX San Antonio.
If you're a Rams fan, you likely know how much work defensive tackle Aaron Donald puts in to make himself one of the best in the league -- regardless of position.
This week, Bleacher Report featured Donald on their NFL page with the following short video.