Each weekday, theRams.com will be taking a look around the internet for the top Rams headlines of the day. Here's a look at what's out there for Thursday, June 13 about your Los Angeles Rams.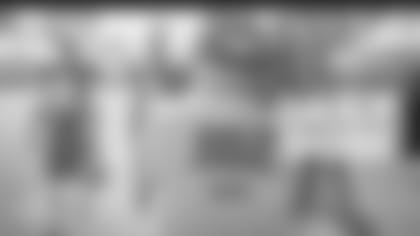 RAMS MAKE TOP 'HARD KNOCKS' MOMENT
The Rams made a recent list of the top moments from HBO's 'Hard Knocks' from when the team was featured in the documentary series ahead of the 2016 campaign. ESPN.com's Alden Gonzales recalled former defensive end William Hayes' dinosaur denial and the hilarity that ensued.
"A running theme throughout the show was the bizarre convictions of veteran defensive end William Hayes, who firmly disregarded any proof that dinosaurs ever existed and proudly clung to his belief that mermaids might actually be out there. It prompted a trip to the museum, where Hayes hilariously dismissed the fossils on display. It led to a training camp visit by a woman dressed in an Ariel costume."
For more on the Rams' 2016 Hard Knocks moment and the full list, click here.
One-of-three non-quarterback candidates, defensive tackle Aaron Donald is the only defensive player included on NFL.com columnist Adam Schein's list of players to challenge quarterback Partick Mahomes for the 2019 MVP award.
Here's what he had to say about No. 99, who led the NFL with a career-high 20.5 sacks a season ago:
No. 8 DT Aaron Donald - "Donald will be my pick, as per usual, for Defensive Player of the Year, an award he's won two years running. Now, his MVP candidacy does suffer from the fact that he plays defense, at a position that is not commonly associated with gaudy stats, as well as the fact that Donald's head coach, Sean McVay, leads a sensational and explosive offense for the Rams. But never get it twisted. This cat is the truth."
For more on Donald's case for MVP and the entire list of candidates, click here.
GOFF'S PLAY-ACTION STRENGTH
Pro Football Focus shared just how strong quarterback Jared Goff was in play-action passing situations in 2018.