Each weekday, theRams.com will be taking a look around the internet for the top Rams headlines of the day. Here's a look at what's out there for Monday, Aug. 12 about your Los Angeles Rams.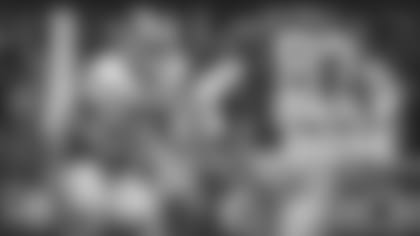 RAMS' SECONDARY AMONG NFL'S BEST THIS SEASON
NFL.com polled various analysts and experts on who has the league's best secondary in 2019.
The panel's answers varied, but former Packers and Raiders wide receiver James Jones made Los Angeles his pick.
Jones explains his case for the Rams below:
Six-time Pro Bowler Eric Weddle takes Rams to new heights
There are a lot of good secondaries heading into 2019, but I have to go with the Los Angeles Rams. The Rams' defense has a pair of lockdown cornerbacks in Marcus Peters and Aqib Talib, with Nickell Robey-Colemanmanning the slot. This trio's ability to cover receivers without help gives safeties John Johnson and Eric Weddlemore freedom to make big plays in Wade Phillips' scheme. Weddle is a huge addition to this unit, as a six-time Pro Bowler and two-time All-Pro. Behind a pass rush that features back-to-back Defensive Player of the Year Aaron Donald, expect the Rams' secondary to make waves early and often.
RAPP EARNS PRAISE FOR NFL DEBUT
Rookie safety Taylor Rapp was making plays all over the field Saturday night in Oakland, and many took notice. Gary Klein of the Los Angeles Times made note of Rapp's multi-faceted talent and instincts standing out in his Rams debut.
Here's what Klein had to say:
The versatility that made Taylor Rapp a second-round draft pick for the Rams was on full display in his first preseason game.
The rookie safety lined up deep in coverage, disguised behind linebackers and also played along the line of scrimmage against the Oakland Raiders.
"You're seeing a guy play with urgency," Rams coach Sean McVay said of Rapp on Sunday after reviewing Saturday's 14-3 loss to the Raiders. "His instincts are showing up, he's playing faster, more decisive. And when he does that… you feel him."
Rapp is expected become more of a force as the Rams prepare for the Sept. 8 opener against the Carolina Panthers.
DAKOTA ALLEN CAPITALIZING ON SECOND CHANCE
A seventh-round selection by Los Angeles in this year's NFL Draft, the former Texas Tech linebacker overcame challenging odds to get chosen by the Rams.
The Los Angeles Times' Mia Berry profiled how Allen did so and is making the most of his second shot:
On the final day of the 2019 NFL Draft, Dakota Allen anxiously waited to hear his name called.
The All-Big 12 linebacker from Texas Tech had been projected as a fifth-round pick, but five rounds came and went without a phone call. Allen had hoped his openness with NFL executives – a letter explaining his burglary arrest during college – would reassure them.
Then the sixth round passed.
Watching the draft from home as the final round started, he began apologizing to friends for flying out only to see him go undrafted. Then the Rams announced their final pick in Round 7: Dakota Allen.
"I was just so happy I honestly cried. My parents cried, my brother cried," Allen said.