Each weekday, theRams.com will be taking a look around the internet for the top Rams headlines of the day. Here's a look at what's out there for Tuesday, January 1st about your Los Angeles Rams.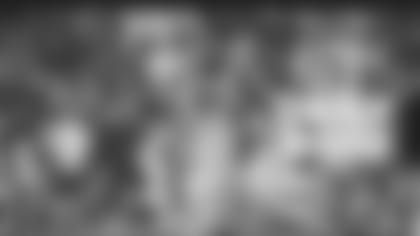 NFL.com's Adam Rank put together his list of the top 10 regular season games in 2018. The Rams cracked Rank's list twice, including taking the No. 1 spot with Week 11's Monday Night Football shootout against the Kansas City Chiefs.
Here's why Rams-Chiefs took the top spot:
"The Rams and Chiefs were supposed to play this game in Mexico City, but poor field conditions caused a relocation to L.A. On Monday night. In an event that seemed better suited for the silver screen. The teams combined for 105 total points, with this being the first game in NFL history to feature dual 50-burgers. Ric Flair was on the sidelines. I mean, you couldn't ask for anything more. I know cynics said, "How about some defense?" But the two Ds combined for eight sacks, seven takeaways and three touchdowns, so cram it. This game was an absolute delight."
Rank also included L.A.'s Week 8 win against the Packers in his list at No. 7.
For a full breakdown of each game and all of Ranks' top regular season games of 2018, click here.
Bleacher Report's Chris Roling came up with one reason for concern for each team as they enter the playoffs. For the Rams, Roling says it's the play of quarterback Jared Goff. Roling points to rough stretch of games for Goff through the month of December and says the third-year quarterback's shaky play can put pressure on the defense.
"More concerning is Goff's previous three performances in December. The third-year signal-caller put up a 68.6 passer rating with one touchdown and an interception in a win over Detroit. He recorded a 19.1 rating while throwing four picks in a loss to Chicago and then had a 75.9 rating with one interception during a loss to Philadelphia. That dip in play puts a damper on what was a superb label-shedding campaign for Goff, and it isn't a coincidence the Rams lost more games in December than they had the prior three months combined."
For each team's concern entering the postseason, click here.
ESPN.com's Jeremy Willis compiled some of the best quotes from around the league as the regular season wrapped up. Both head coach Sean McVay and defensive coordinator Wade Phillips made the list.
"Another grudge game for me, right? Like Atlanta, Buffalo, Dallas, New Orleans, Philadelphia, Chargers, yeah, Denver twice, Houston -- two different teams in Houston. Pretty much got the league covered now."
-- Los Angeles Rams defensive coordinator Wade Phillips, who has coached for nine NFL teams, on his many "beefs"
"I feel outstanding. Don't let the voice fool you. I feel great. There's no excuses coming from me. So we're ready to go. And I've got enough hair gel, all right, for me and Kliff Kingsbury [laughs]."
-- Rams coach Sean McVay, while sick, avoiding a potential L.A. hair gel panic
For all of the best quotes from this season, click here.