Each weekday, theRams.com will be taking a look around the internet for the top Rams headlines of the day. Here's a look at what's out there for Tuesday, January 29th about your Los Angeles Rams.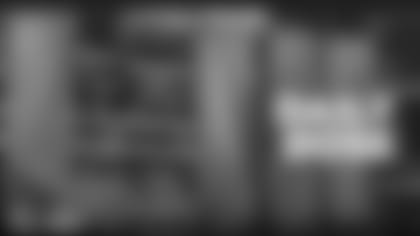 THE BEST FROM OPENING NIGHT
ESPN captured some of the top moments from Opening Night on Monday, from quotes from quarterback Jared Goff about his dog to commentary on wide receiver Julian Edelman's beard.
TODD GURLEY: "It's not about me"
Running back Todd Gurley made it clear last week that he's all in for a run at the Lombardi Trophy whether he's a big part of it or not. Gurley posted career-low numbers in the NFC Championship game, but seems to be enjoying the ride.
ESPN's Lindsey Thiry caught some of what Gurley had to say last week. Thiry said the former Georgia Bulldog is rolling with the punches in the postseason:
Gurley knows what it's like to be at the bottom. That's what has made it easier to take all of this -- including sharing time in the playoffs with veteran backup C.J. Anderson, who only joined the team in mid-December -- in stride.
"I've been 4-12, you know what I'm saying? Like, I've been broke," Gurley said. "I got money. I've done had terrible seasons. I'm in the Super Bowl. It's a blessing."
SUPER BOWL BY THE NUMBERS
NFL.com's Cynthia Frelund picked 10 numbers that matter most in Super Bowl LIII. Frelund's numbers are based off of a historical reference model compiles data from the last 15 seasons and might just determine the winner of Sunday's game.
Here's an example of what Frelund says could make the difference for the Rams against the Pats:
Jared Goff has incorporated play-action on 35.2 percent of his plays this season -- "the highest rate in the NFL among the 33 qualified quarterbacks. Goff averages 3.4 additional air yards per attempt when using play-action -- the fourth-biggest increase among qualified QBs. The Patriots' defense has faced play-action on just 17.9 percent of throws against them (third-lowest rate), but New England has allowed opposing passer ratings to increase by 28.4 points (sixth-most) and opposing air yards per attempt to increase by 2.9 yards (third-most). Overall, the Patriots' defense has allowed a league-high 13.5 air yards per attempt when facing play-action."
For the 10 numbers that matter most in Super Bowl LIII, click here.