Each weekday, theRams.com will be taking a look around the internet for the top Rams headlines of the day. Here's a look at what's out there for Friday, February 1st about your Los Angeles Rams.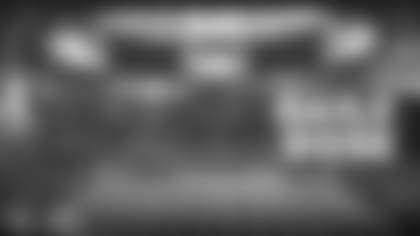 Veteran cornerback Aqib Talib and defensive coordinator Wade Phillips are in their third season working together to lead a defense and disrupt offenses across the league. Talib and Phillips won Super Bowl 50 together with the Broncos in 2015 and are now knocking on the door of a second Lombardi against the Patriots.
On Friday, ESPN's Lindsey Thiry took a closer look at Talib and Phillips close relationship — she captured second-year safety John Johnson's take here:
"Coach Wade knows that Aqib know what he wants from him," Rams safety John Johnson said, "so I just think he goes about work every day not really trying to please him, but they've been together, so they know what to expect of each other and you can tell they are just real comfortable with each other. ... Don't take this the wrong way, but he could probably replace Wade. That's how close they are. He understands his philosophy better than anyone I've seen."
Wide receiver Brandin Cooks went over 1,000 yards for the fourth-straight season in his first in L.A. and is now preparing for his second-straight trip to the Super Bowl and it's a against his former team. On Thursday, ESPN's Vaughn McClure wrote about Cooks' experience playing just one season in New England before being traded to Los Angeles for a first round pick.
"Cooks also expressed gratitude for time spent around coach Bill Belichick and the rest of the Patriots. It was 19 games and 1,141 offensive snaps, yet he matured during his short stint with a perennial championship franchise. 'I became a smarter football player, there's no doubt about it,' Cooks said."
Twenty NFL.com analysts submitted their picks for who will win the Super Bowl and MVP, along with a bold prediction for the game. The picks were split 11-9 Patriots, but of those who took the Rams, quarterback Jared Goff seems to be the frontrunner for MVP.
Here's a few predictions of how the Rams will win it all:
Will Blackman: Los Angeles Rams 20, New England Patriots 17 - Why the Rams will win: The Rams' pass rush will be too much for Tom Brady to overcome. Brady has yet to be sacked in the playoffs, but the Rams get to him three times in this game.
James Jones: Los Angeles Rams 35, New England Patriots 24 - Why the Rams will win: Motivated by a poor Championship Sunday performance, Todd Gurley returns to early-season form and comes up BIG in the Rams' passing game. He proves why he was in the MVP conversation for most of the year.
Peter Schrager: Los Angeles Rams 37, New England Patriots 33 - Why the Rams will win: It's clear in this game that youth beats wisdom.