Each weekday, theRams.com will be taking a look around the internet for the top Rams headlines of the day. Here's a look at what's out there for Thursday, January 10th about your Los Angeles Rams.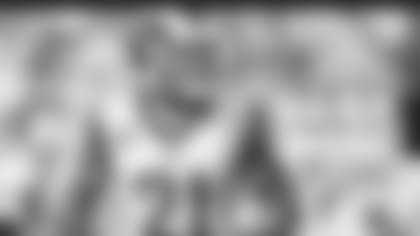 ESPN's NFL Nation Reporters of the NFC West settled on the division's award winners on Wednesday.
The four reporters picked defensive tackle Aaron Donald as the division's Defensive MVP and running back Todd Gurley as the Offensive MVP. Donald and Gurley join the NFC West's Rookie of the Year, 49ers offensive tackle Mike McGlinchey, and the division's Coach of the Year, Seattle's Pete Carroll to round out the awards.
Here's what Rams NFL Nation reporter Lindsey Thiry said about each MVP:
Defensive MVP -- Rams defensive tackle Aaron Donald: Despite dealing with double-teams on an overwhelming majority of snaps, Donald recorded 20.5 sacks to set a new NFL single-season record for a defensive tackle, since sacks became an official individual stat in 1982. His 20.5 sacks also set a new Rams franchise record.
Offensive MVP - Rams running back Todd Gurley: Despite sitting out the final two regular-season games because of a sore knee, Gurley scored a league-best 21 touchdowns, ranked third with 1,251 rushing yards and caught 59 passes for 580 yards. Among players who started more than three games, Gurley ranked second in rushing yards per game, averaging 89.4.
NFL.com has posted its top plays from 2018 that are up for NFL Honors' 'Clutch Performance Play of the Year.' Fans can vote for five of the 32-top plays from the regular season — including cornerback Marcus Peters' late interception in Week 11 against his former team, the Kansas City Chiefs.
Peters' interception took the ball from quarterback Patrick Mahomes and the Chiefs' high-powered offense as it set out for a game-winning drive — getting the ball back up by three, with under two minutes remaining.
Pro Football Focus' Ben Linsey wrote about the importance of the Los Angeles defense having one of its defensive captains, cornerback Aqib Talib on the field. Linsey points out the stark difference in opposing teams' quarterback rating with Talib on and off the field this season.
"The team defensive statistics that show just that are pretty remarkable. In the games in which Talib started in weeks 1-3 and 13-17, the Rams pass defense surrendered a passer rating of 74.5 (third-best in the NFL) and 10.4 yards per reception (seventh-best). In those games, they allowed eight touchdown passes while intercepting 12 passes which was the best ratio in the NFL over those eight weeks."