Each weekday, theRams.com will be taking a look around the internet for the top Rams headlines of the day. Here's a look at what's out there for Thursday, May 16 about your Los Angeles Rams.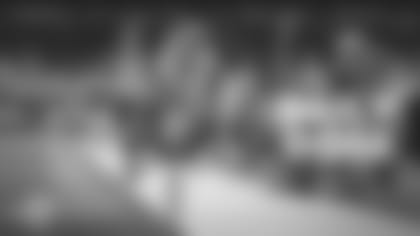 NFL.com's Dan Parr picked 25 NFL rookies who are in the best position to succeed in year one, and wrapping up his list at No. 25 is Rams defensive tackle Greg Gaines.
The Rams drafted Gaines in the fourth round out of the University of Washington with an immediate defensive openings in mind, and that's why Parr says the rookie is set up for a big first season as a pro.
"Gaines has a clear path to the job vacated by Ndamukong Suh, which consists of eating up space playing next to the best defensive player in the game. Gaines is actually a better fit for the job than Suh! This stubby former Husky was born to be a two-down nose tackle, and he couldn't have asked for a better landing spot."
For the entire list of rookies set up for success, click here.
Running back Malcolm Brown bowed out of the 2018 campaign after Week 13, dealing with a clavicle injury, but Bleacher Report's Kristopher Knox points to his production before the season-ending injury as to why he might sneak up on defenses in 2019.
Knox called Brown the best-kept secret on L.A.'s roster for the upcoming season.
"Rams fans know that Brown is a hard runner and a capable spot starter in his own right. He has averaged 4.0 yards per carry with the Rams and averaged 4.9 yards per carry in 2018. He even garnered some free-agent attention, as the Rams matched an offer sheet from the Lions to retain him."
For more on Brown and each team's best kept secret, click here.
The Rams added depth at cornerback, drafting David Long Jr. in third round out of Michigan. Long, a Los Angeles native, posted the lowest reception rate among all draft eligible corners in 2018.