Each weekday, theRams.com will be taking a look around the internet for the top Rams headlines of the day. Here's a look at what's out there for Wednesday, June 5 about your Los Angeles Rams.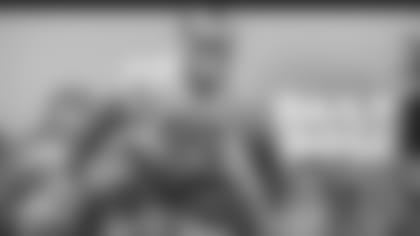 Three Rams popped up on Bill Barnwell's comprehensive list of potential MVP candidates for the 2019 season. The ESPN staff writer split the field into nine different groups of candidates, ranging from future Hall of Fame quarterbacks to kickers.
Here are the Rams who made Barnwell's list and bit about each category:
QB Jared Goff (Group II: The rookie-deal QBs) "In 2017, Wentz was likely about to win the award in his second season as a starter before going down with a torn ACL. Mahomes won MVP last season with all of one professional start in his back pocket."
RB Todd Gurley II (Group VI: Workhorse running backs) "Fifteen running backs have won the AP's MVP award, dwarfing the three won by non-quarterbacks at other positions. It's obviously more difficult for a back to win it in a modern era in which teams happily rotate their backs and throw the ball more frequently than ever before, but Adrian Peterson's 2012 season reminded us that it's possible."
DT Aaron Donald (Group VII: Star pass-rushers) "We can't ignore the chances that a dominant pass-rusher might catch fire and win MVP. It's going to take an incredible season; since Lawrence Taylor won the trophy for his 20.5-sack campaign in 1986, the only defensive player to attract significant consideration was when J.J. Watt racked up 13 votes in 2014."
For the entire list of 2019 MVP candidates, click here.
TOP PLAYERS BY JERSEY NO.
CBSSports.com's Cody Benjamin determined a list of the NFL's top players by jersey number and two Rams topped their respective field, including defensive tackle Aaron Donald, who Benjamin puts past Houston defensive end J.J. Watt.
16 | Jared Goff "Tyler Lockett could give this guy a run for his money if Goff's clutch-time floundering continues. At the moment, though, few players offer more with these digits. They are rather iconic, too, passing through Joe Montana, Norm Snead and other legendary QBs."
99 | Aaron Donald "A fitting way to round this out. You could see how incredible he was lined up alongside Ndamukong Suh in Los Angeles, considering Suh was once the most feared DT in the game. No. 99 is a true outlier, made famous by legends like Jason Taylor, Warren Sapp and, even today, J.J. Watt. But no one's quite as extreme in their talent and production as Donald, who's all but un-blockable at the heart of the line."