Each weekday, theRams.com will be taking a look around the internet for the top Rams headlines of the day. Here's a look at what's out there for Wednesday August 8th about your Los Angeles Rams:
Austin Knoblauch of NFL.com wrote about what to for in each of the preseason Week 1 matchups. The Rams will face the Ravens on Thursday evening, following a two joint practices and walk-thru in Baltimore.
Here is what Knoblauch says to watch for on Thursday:
Rams: Is the defense soft in the middle? The relative inexperience at the position could be a concern heading into the season. Veteran _Mark Barron_ likely won't see much (if any time) in the preseason as he recovers from shoulder and heel surgeries. The rest of the group only has a handful of starts between them. With the _Rams_ and _Ravens_ holding joint practices this week before the game, the two teams will be familiar with one another -- let's hope that wards off any potential chain-snatching incidents between _Aqib Talib_ and _Michael Crabtree_.
Ravens: _Joe Flacco_ says he plans to play against the _Rams_ after staying on the sidelines during the _Hall of Fame_ Game. Flacco, by all accounts, is having the best training camp of his career. That's not surprising considering the team's decision to draft Jackson, and it also shouldn't surprise anyone if Flacco tries to torch the _Rams_ before exiting. Jackson looked very much _like a rookie_ last week against the _Bears_, even if he and coach John Harbaugh were fine with the performance.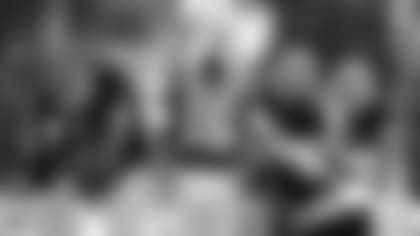 Pro Football Focus also previewed Thursday's matchup as part of its 'PFF NFL Press Pass'. According to the "preview team", don't count on a long look at the Rams' much anticipated secondary and keep an eye on quarterback Lamar Jackson.
How long, if at all, will we see the new-look Rams secondary?
Lamar Jackson's second pro appearance
_Lamar Jackson_ made his NFL debut in the Hall of Fame game, and _his play was up and down_, finishing with a PFF game grade of 52.8. Even so, there is no denying that Jackson possesses talent both inside and outside the pocket. While inconsistent in two quarters of action versus the Bears, he'll need to be much better against a new-look Rams defense. – Charles Miller
RAMS' CHEERLEADERS MAKES HISTORY
Rams' cheerleaders Quinton Peron and Napoleon Jinnies are making history this season, becoming the first male NFL cheerleaders.
Peron and Jinnies made the Rams' squad in March, and according to CNN's David Williams, inspired Saint's cheerleader Jesse Hernandez to try out for the 'Saintsations' cheer team. Hernandez, along with Peron and Jinnies will be the first male cheerleaders to dance alongside their female teammates in NFL history.