Each weekday, theRams.com will be taking a look around the internet for the top Rams headlines of the day. Here's a look at what's out there for Monday, July 22 about your Los Angeles Rams.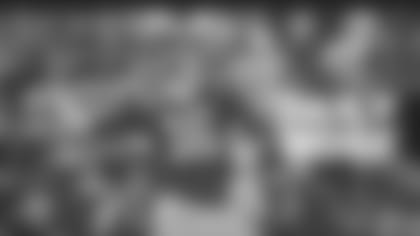 Mike Sando of the Athletic recently polled 55 NFL coaches and executives to come up with his annual quarterback tiers. As Sando defines it, Tier 1 is reserved for the best, and Tier 5 is the worst. But this year, no quarterbacks received a majority of votes for it.
So where is Goff? Tied with Houston's Deshaun Watson for No. 12 in the rankings in Tier 2. Goff received one vote for Tier 1, 38 votes for Tier 2, and 16 votes for Tier 3.
Goff moved up seven spots and a full tier in the rankings from one year ago. The most common analysis says Goff makes spectacular throws from a clean pocket, but he struggles amid chaos and depends more than most on his play-caller putting him in position to succeed based on what the defense is showing before the snap.
Sando also points out that Goff's numbers through his first 38 starts are pretty close to the 38-start production from 2016 No. 2 overall pick Carson Wentz.
[S]ame number of touchdown passes, one fewer interception, passer rating in the low 90s. Goff has the higher yards per attempt and adjusted yards per attempt.
So, really, they're quite comparable, though Wentz came in at No. 10 on the rankings with five Tier 1 votes, 34 Tier 2 votes, and 16 Tier 3 votes.
BIGGEST REASON FOR OPTIMISM
Maurice Moton of Bleacher Report pointed out every NFL team's biggest reason for optimism heading into training camp in a recent piece. And for Los Angeles, Moton says it's the x-factor element that rookie running back Darrell Henderson brings to the club.
The rookie third-rounder accumulated 4,303 yards from scrimmage at Memphis, showing vision, the ability to hit holes on the ground and soft hands as a pass-catcher. … Gurley's knee will dominate Rams' offseason headlines and become a talking point throughout the regular season, but Henderson possesses the tools to grab the spotlight and redirect the conversation about the rushing offense.
POSSIBLE EXTENSIONS COMING?
Over the last few years — particularly in 2018 — the Rams have used the time around training camp to get some important contract extensions done.
Last year, wide receiver Brandin Cooks, running back Todd Gurley, right tackle Rob Havenstein, and defensive tackle Aaron Donald all received contract extensions in either July or August.
So who could it be this year? The Athletic's Vinny Bonsignore speculated four players in a tweet over the weekend.
We'll see exactly what could unfold over the course of the next few weeks. The Rams report to training camp in Irvine this week, and the first practice is on Saturday.