Each weekday, theRams.com will be taking a look around the internet for the top Rams headlines of the day. Here's a look at what's out there for Friday, May 24 about your Los Angeles Rams.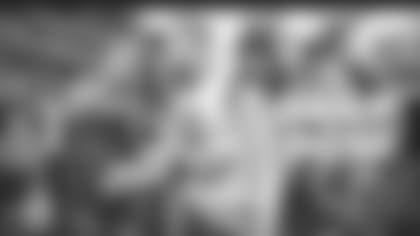 L.A.'s HOMEGROWN PLAYER(S)
NFL.com's Gregg Rosenthal picked a player from each team who is still on his rookie contract, but is set to grow into a larger role. For the Rams, Rosenthal landed on two players — offensive linemen Joe Noteboom and Brian Allen, who are poised to start at left guard and center, respectively.
"They were groomed for one season before Rodger Saffold left in free agency and center John Sullivan's contract option was declined. These are the transitions that good organizations handle without disruption, and there is little internal consternation about the changes. Rams offensive line coach Aaron Kromer has already proven to be a terrific developer of talent, helping last year's line play with impressive cohesion."
The NFC West earned the No. 2 spot in Adam Schein's list of top divisions ranked by quarterbacks on Thursday. Schein's high mark for the division's signal-callers comes while much remains to be seen from QB Jimmy Garoppolo, who is coming off an ACL tear, and the rookie Kyler Murray, who just wrapped up quarterbacking the Oklahoma Sooners in January.
2) NFC WEST: Arizona Cardinals: Kyler Murray, Los Angeles Rams: Jared Goff , San Francisco 49ers: Jimmy Garoppolo, Seattle Seahawks: Russell Wilson - "This group came close to being No. 1 on the list. Wilson was rightly rewarded for his greatness this offseason. He elevates the play of everyone around him, and now he's the league's highest-paid player. Goff was an MVP candidate for the first few months of last season. Not so much after that, but the throws in New Orleans during crunch time of the NFC Championship Game remind me of how great he can be under Sean McVay."
Goff and the NFC West trail only the West's AFC division and quarterbacks Patrick Mahomes, Philip Rivers, Joe Flacco, and Derek Carr.
For the full division rankings by quarterbacks, click here.
Running back Todd Gurley took 35 carries for at least 10 yards in 2018 — the second most among all running backs, according to Pro Football Focus.