Each weekday, theRams.com will be taking a look around the internet for the top Rams headlines of the day. Here's a look at what's out there for Wednesday, May 22 about your Los Angeles Rams.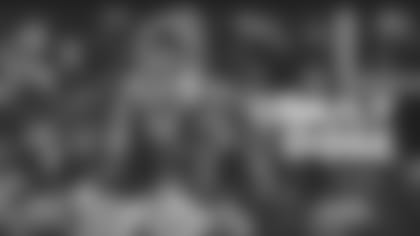 Sports Illustrated's Andy Benoit sat down with veteran Rams safety Eric Weddle to watch film as part of his 'The Big Interview' series, which airs on SI TV. Benoit listened as Weddle broke down film from his days in Baltimore, asked the All-Pro safety about facing his former team in 2019, and marveled at the California native's football intelligence.
Benoit says Weddle has left quite the impression on his new coaching staff.
"The Rams are giddy about the new dimensions he'll give their defense. Some coaches feel a subtle tug of pressure working with him because they've never dealt with such a smart player. He makes you raise your game. The term "coach on the field" is uttered a lot, but rarely by actual coaches. Weddle is the only non-quarterback I've heard referenced like this multiple times."
For the full article and more on Benoit's film session with Weddle, click here.
Bleacher Report's Brent Sobleski ranked each team's backfield depth entering 2019 and has running back Todd Gurley and Co. in the middle of the pack. The Rams added to their running backs room this offseason, drafting Darrell Henderson in the third round of the 2019 NFL Draft, rounding out a group that could get competitive come training camp.
No. 15 Los Angeles Rams (Starter: Todd Gurley II Depth: Darrell Henderson, Malcolm Brown, John Kelly, Justin Davis, Matt Colburn) "The three-time Pro Bowl running back is surrounded by a solid cast. The Rams matched a restricted free-agent offer to Malcolm Brown this offseason. Brown is both a legitimate backup and a core-four special-teamer. Also, general manager Les Snead traded up in this year's third round to select Darrell Henderson, who is the organization's insurance policy if Gurley starts to decline."
Pro Football Focus tabbed Rams left tackle Andrew Whitworth as one of the leagues top-rated players over the age of 35. Whitworth, 37, decided to return for a 14th professional season in February.