If you're a young offensive lineman joining Andrew Whitworth, Rob Havenstein, and the rest of the front five in Los Angeles, there's a good chance you'll be trained to play multiple positions on both sides of the center — a staple of offensive line coach and run game coordinator Aaron Kromer's freshman orientation.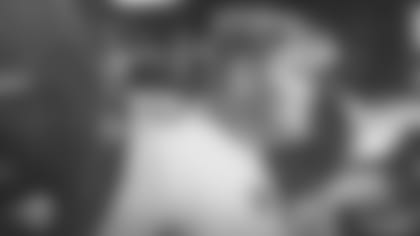 So that likely goes for Rams' fifth-round pick, former University of Wisconsin right tackle David Edwards, who said he's open to training at multiple positions on the O-line in his introductory press conference on Tuesday.
It wouldn't be the first time the 6-foot-6, 308-pound, bright-eyed lineman has learned a new position. In addition to taking spring practice reps at left tackle in Madison, Edwards once made the jump from where he was originally recruited at tight end to tackle.
New to campus at Wisconsin, a member of the coaching staff put some pressure on the incoming freshman.
"My first camp I was a tight end and Coach Chris threatened me that if I drop a ball he'll put knee braces in my locker," Edwards said.
"I naturally kept gaining weight — I was 270 — they just came in, we were light at tackle depth and they came to me and said, hey, we think this is a good spot for you and we think you have the chance to be a good player."
Edwards embraced the move to tackle, which of course led to his NFL opportunity after 31 starts at right tackle in three seasons, and a couple of All-Big Ten honors at Wisconsin. But the jump from tight end to tackle wasn't the rookie's first position change. Just a year before landing on the edge of the O-line, Edwards was 30 pounds lighter and running the triple option at Downers Grove North High School in Illinois.
"[T]he old Houston split-back veer. And I wasn't a good thrower or anything, but I was big enough. I just lowered my shoulder and tried to get three or four yards," Edwards explained.
As one of the newest members of the defending NFC Champions, Edwards' travels about the offensive side of the ball are likely over, for the most part. But the experience as a passer and pass catcher might prove valuable for the young lineman, who's coming in with a better understanding of the process.
"I think it's really cool to see for example how [QB] Jared [Goff] or a guy like Rob, just to be able to see those guys own their craft and look back and be like, alright I did that once," Edwards said. "It's cool to see the different perspective of the nuances of the position and see how they are trying to help us."