The Rams may have lost their first game of the season in Week 9, but the team is still 8-1 — good enough for first place in the NFC West. Here are five takeaways from Sunday's contest, as Los Angeles move on to Seattle.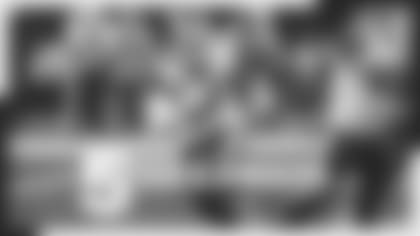 Running back Todd Gurley was able to break a longstanding franchise record by scoring an eight-yard touchdown in the first quarter.
With the score, Gurley became the first player in team history to score a touchdown in 12 consecutive regular-season games.
Gurley has now scored a league-leading 16 total touchdowns, and is also No. 1 in touches (219), yards from scrimmage (1,230), carries (182), yards rushing (868), and rushing touchdowns (12).
The fourth-year RB out of Georgia is one rushing touchdown away from tying his career high, and three total touchdowns from tying his career high in that category.
2) FOWLER FITS IN JUST FINE
In his first game as a Ram, outside linebacker Dante Fowler played 62 percent of snaps — perhaps a bit more than one would've expected considering he was a mid-week acquisition at the trading deadline.
Head coach Sean McVay said that Fowler played well, crediting defensive line coach Bill Johnson and defensive quality control coach Thad Bogardus for getting Fowler up to speed.
Fowler had a tackle for loss and a pass defensed during Sunday's contest. He said despite it being his first game, he felt comfortable next to his teammates on the field.
"I feel great, you know just being on the edge, holding it down with the other linebackers," Fowler said. "I feel like it's going to be really good in the future."
Wide receiver Cooper Kupp is an essential part of Los Angeles' offense, and his return certainly seemed welcome after he missed a pair of games with a knee injury.
Kupp caught five passes for 89 yards in his return — one of those passes going 41 yards for a touchdown midway through the fourth quarter.
The Eastern Washington product leads the team with six receiving touchdowns, already eclipsing his rookie total of five from last year.
"He was great, he did a great job and just getting him back — [I'm] so comfortable with him — everything he does, and he's such a great player for us," quarterback Jared Goff said postgame. "Just getting him healthy is really important."
4) PETERS TAKES ACCOUNTABILITY
Cornerback Marcus Peters talked a lot postgame about his play and how he feels like he needs to play better. While he used a lot of colorful language, the overarching message he put across was, "I can stand up, I can play better, I've been playing [poorly] the last couple weeks and that's just being honest. With me, I'm going to continue to fight and that's the type of player I am. … You're going to get beat in football, but you go out there and you compete to the highest of your ability and [stuff] happens."
That was Peters being as accountable as possible for his own play — not offering one excuse for any play made around him.
That was something head coach Sean McVay took notice of and appreciated.
"The best part about him is the accountability that he took afterwards. The first thing he's going to do is look inward and figure out what he can do to be better," McVay said. "We still have a lot of confidence in him. It's a collaborative effort as coaches and as players for us all as a team to try to do things that are conducive for putting our players in good spots, from a coaching standpoint. Then, the players to be able to go execute it."
Even though it was a loss — and no one on the Rams wants to lose, or likes to lose — there seemed to be an understanding in the locker room that this was only one game.
In other words, the sky is not falling and everyone is looking forward to getting things back going for the Seahawks in Week 10.
"I think the sense that we got from our players [Sunday] and from our coaching staff is that, if anything, it creates an added sense of urgency. That feeling in your gut when you wake up and you're kind of just sick because you didn't get the result that you wanted is something that you can't create unless you do end up losing," McVay said. "We try to be consistent whether you win or lose, but there is something that is created just based on not getting the result that you wanted. If you got the right mindset as far as looking at what can I do to be a part of the solution, getting better. Can't wait to get back out and get another opportunity to compete and try to erase this feeling that you do have. I feel like our building shares that same feeling and we're excited about getting to work on the Seahawks this week."