LOS ANGELES – The Rams' offensive line made up for its lack of experience, its defense created a key takeaway and RB Todd Gurley came up big in their 17-7 win over the Bears on Sunday Night Football.
TheRams.com expands on those observations and more in this edition of Five Takeaways:
1) A YOUNG OFFENSIVE LINE GROWS UP QUICKLY
Outside of LT Andrew Whitworth's 208 career starts, here's how many the rest of the Rams' offensive line had entering tonight's game:
LG Austin Corbett - 1
C Austin Blythe – 26
RG David Edwards – 3
RT Bobby Evans – 0
That's right, a combined 30. And Evans, in his first career start, had to try to contain 2016 NFL Defensive Player of the Year Khalil Mack.
None of that mattered, though. Despite the injuries sustained by the group entering Week 11, it still did not allow a single sack against a Bears defense that had 25 through its first nine games, tied with the Packers and the Saints for 12th-most in the league.
The word that comes to mind to describe that performance is remarkable. Whitworth used "proud" frequently in the locker room, and I'd say that works pretty well too.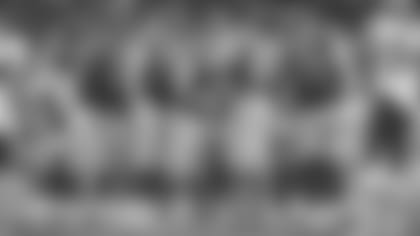 2) GURLEY GUIDES THE GROUND GAME
RB Todd Gurley said that before Sunday's game, Rams head coach Sean McVay told him they were going to "pound the rock."
Sure enough, McVay's playcalling backed up his words. Gurley finished with 25 carries for 97 yards – both game highs – with one touchdown, adding three receptions for 36 yards.
In terms of scrimmage yards, it was his most productive game of the season. His 133 against the Bears surpassed his 101 against the Panthers in the season-opener.
Given the injuries to the offensive line and the likely adjustments to follow, this was going to be a game that the Rams would need to count on Gurley. He certainly delivered.
3) DEFENSE CREATES OPPORTUNITIES
It was a key point of discussion in this week's First Look: Given that the Bears had the fifth-fewest giveaways in the NFL, the Rams defense was going to have to create takeaways themselves. Third down stops alone were not going to be enough to give the ball back to the offense and put it in position to score points.
CB Troy Hill made sure to help the cause.
His interception with 5:23 left in the second quarter gave the Rams possession near midfield, needing only 56 yards to reach the endzone. They would, thanks to Gurley's one-yard touchdown run at the end of it.
4) AND GIVE CREDIT TO SPECIAL TEAMS, TOO
Bears kicker Eddy Pineiro missed both of his field goal attempts Sunday night, and the second shank set up the Rams' first points of the game – a 38-yard field goal by kicker Greg Zuerlein.
The punt and kickoff units deserve their share of praise, too. Punter Johnny Hekker had two 67-yarders and a 63-yarder. Outside of a fumble recovery at the Rams 46, 10 of the Bears' 12 offensive possessions began inside their own 30.
5) A LOT OF PRIDE IN THIS VICTORY
Across several interviews and media sessions, it became clear this victory meant a lot.
For Whitworth, it was probably because of having to bring several young offensive linemen up to speed against one of the toughest front sevens in the league.
For Goff, it was how the tight ends stepped up despite being hobbled by injuries during the week.
All told, different position groups – especially on offense – experienced some adversity this week, either before or during the game.