The Rams improved to 7-0 with their 39-10 takedown of the 49ers at Levi's Stadium. With a three-game road swing now complete, here are five takeaways from the Rams third divisional win of the season.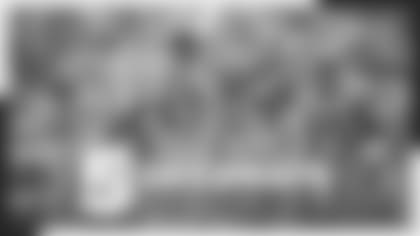 1) CAPITALIZING OFF TAKEAWAYS
The 49ers came into Week 7 with the league's worst turnover differential at -11, and the Rams made that worse by bringing it to -15 with four takeaways and no giveaways. And to make things even better, L.A. scored 24 points off of those turnovers, giving them 51 points off takeaways in 2018.
The Rams scored a field goal of the first takeaways — a fumble forced by outside linebacker Samsom Ebukam and recovered by rookie OLB Trevon Young — but then scored three touchdowns after each of the next three extra possessions.
Los Angeles has been excellent at scoring off turnovers since Sean McVay took over as head coach, putting up a league-leading 177 points off takeaways since the start of the 2017 season.
2) ZUERLEIN'S RETURN GOES GREAT
Kicker Greg Zuerlein was on the field for the first time since Week 1 and his return went as well as possible.
Zuerlein hit all three of his attempted field goals, from 35, 33, and 37 yards and connected on each of his four extra points.
"Getting Greg back was huge and it kind of takes a little of the uncertainty out of it when you get within a certain number for him, he's so good," quarterback Jared Goff said.
Not only did Zuerlein contribute to the offense, but he was effective for the defense, too, in drilling seven of his eight kickoffs for touchbacks. Because of that, the 49ers average drive start was their own 27-yard line.
Overall, the Rams are No. 3 this season with an average opponent drive start at their own 25.2.
Running back Malcolm Brown received 41 percent of Los Angeles' offensive snaps on Sunday, and made the most of them with 13 carries for 65 yards.
With Los Angeles removing their starters from the game late in the contest, Brown had more rushing attempts and was able to help salt the clock toward the end of the game for L.A. McVay said he's been impressed with Brown's ability to come in and keep the offense moving all season.
"He's one of those guys that got a game ball. I think, really, the consistency at which he's operated with, with the opportunities he's had is really important to us," McVay said. "I think he levels all fronts excellent. Very similar to what we see in Todd consistently as far as pressing it, setting his blocks at the line of scrimmage and then when he gets downhill he is a downhill direct runner where he's falling forward. Even on a couple of those runs in the four minute when we're trying to close out the game you're thinking, 'OK it's going to be second-and-8,' and it's second-and-5 because he's falling forward and getting an extra three yards. He's an efficient player, really productive, trustworthy and you win with players like Malcolm Brown. Really I think he's earned that."
4) NATSON CONTINUES TO BE EFFECTIVE
JoJo Natson has excelled as a punt returner, filling in for the injured Pharoh Cooper. He had a pair of strong returns on Sunday — though one was technically a free kick coming off of the safety from linebacker Cory Littleton's blocked punt.
Still, Natson returned a punt 36 yards early in the fourth quarter, setting the Rams up at the San Francisco 13-yard line. Natson's 23-yard free kick return set L.A. up for a field goal.
Natson currently is No. 4 overall and leads the NFC with 17.2 yards per punt return.
"I would say, he's really shown that he's a great competitor with all the opportunities that he got in the preseason," McVay said Monday. "One of the things that you certainly couldn't deny is just, this is a fearless competitor, good ball skills. He's got that twitch and that explosion that you're thinking, 'Man, he might take it every time he touches the ball.' I think those guys are doing an excellent job — those other 10 around him — being able to create some space."
The Rams take on the 49ers at Levi's Stadium in Week 7.