Los Angeles dropped only its second game of the season on Sunday, losing a 15-6 matchup to Chicago. Having already clinched the NFC West, the Rams are still in good position to secure a first-round bye and are remain in contention for the conference's No. 1 seed.
Here are five takeaways from Week 14.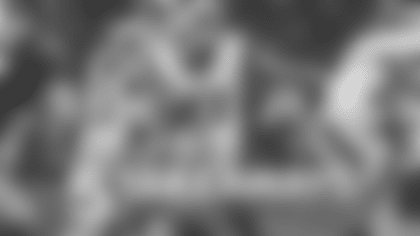 1) 10 TAKEAWAYS IS LAST THREE GAMES
Dating back to the victory over Kansas City in Week 11, Los Angeles' defense has recorded 10 takeaways in its last three games.
The club got five against the Chiefs, then two against the Lions, and three against the Bears on Sunday.
Six of those takeaways have been interceptions, where four have been recovered fumbles.
Cornerback Aqib Talib credited defensive coordinator Wade Phillips for coming up with strong plans of attack, and then players have taken advantage of their opportunities.
"I think coach Wade is getting us — coach is an O.G., so after Thanksgiving he is really starting to get in his bag on the game plan stuff, so he's coming up with great game plans and we are executing right now," Talib said.
On Sunday specifically, cornerback Marcus Peters, cornerback Nickell Robey-Coleman, and safety John Johnson each recorded an interception.
"I think they're just doing an excellent job swarming. You see the three interceptions that we were able to get and John Johnson almost got a second — making their opportunities count," head coach Sean McVay said. "I think a lot of those instances, guys did a great job making the plays when they were there to be made."
2) MORE TOUCHES NEEDED FOR GURLEY?
Throughout the course of the season, running back Todd Gurley has led the league in touches — displaying how dynamic he is from both a rushing and receiving perspective.
That's changed after Sunday, with Gurley taking only 11 carries and making only three receptions.
So why so few touches for No. 30? Here's what head coach Sean McVay had to say about that on Monday.
"Really, it was a result — we didn't have a lot of plays. Didn't really get any sort of continuity, any sort of rhythm going on any of our drives," McVay said. "Even when we were able to sustain the long drive and kick the field goal, really, you're kind of fighting back-and-forth between getting into some second-and-longs where you're usually accustomed to throwing it. So, they did some different things defensively. Certainly, I would have some decisions back and make sure that you try to be more cognizant of that based on what they were doing. That's something that you try to look at yourself as a coach and be better, but mainly it was a result of doing some different things that we felt like we had a better chance throwing the football. Then, you kind of get behind the sticks if you're not efficient on those early downs when you do throw it. That kind of limits your options and opportunities, but those are things that I have to be better for."
For the first time in his career, wide receiver Robert Woods has eclipsed 1,000 yards receiving. While it came in a loss, the stat is clearly meaningful for the USC product, as illustrated by his Instagram post from Monday.
Woods has been one of the most consistent receivers in the league this season, recording at least 60 yards receiving in each game since Week 2. Overall, he's made 71 receptions for 1,032 yards. He's also taken 15 carries for 122 yards — both of which are career highs.
With the loss of wide receiver Cooper Kupp for the 2018 season, Woods has essentially switched positions on the offense. And there has not been any drop in production.
"He's an incredible player. He's incredibly talented, but when you just match that up with how conscientious he is, how smart he is, how versatile he is, he can really do everything," McVay said last week. "I think in the absence of Cooper — with what a huge loss that has been — what Robert has been able to provide, in terms of his versatility, is really impressive and it's amazing."
With Woods reaching 1,000 yards, the Rams have two players with at least 1,000 yards receiving since 2006 in Woods and fellow wideout Brandin Cooks.
The Bears were one of the only teams all season to limit defensive tackle Aaron Donald's effectiveness.
After recording 6.5 sacks, seven tackles for loss, 11 quarterback hits, and three forced fumbles in the three games leading up to Week 14, Donald had just two total tackles and one quarterback hit in Chicago.
Did the Bears do anything specific to keep Donald from wreaking havoc?
"I mean they did, they did things — a lot of snap protections, double teams, but that's expected," Donald said after the game. "They were able to run the ball and do a lot of RPO's and stuff like that to keep us off balance and they got the best of us today."
There were two consequences in terms of playoff seeding that came from Los Angeles' loss to Chicago.
First, the team was unable to clinch a first-round bye. Because that loss came specifically to the Bears, the Rams do not have the head-to-head tiebreaker. That means L.A.'s magic number for clinching a first-first-round bye is now two. If the Rams win two games, they'll clinch it. If the Bears lose two games, the Rams will clinch it. If Los Angeles wins one game, and Chicago loses one game, then L.A. will have the first-round bye.
Realistically, the Rams are still in good position for that to happen.
The Rams, however, are no longer in the driver's seat to be the No. 1 overall seed in the NFC. L.A. and New Orleans are both currently 11-2, but the Saints own the head-to-head tiebreaker. That means in order for the Rams to claim home-field advantage throughout the postseason, they'll need some help.
New Orleans is on the road in Week 15 to take on Carolina, then faces Pittsburgh and Carolina at home to close out 2018.
"To say that you wouldn't want to have the ability to stay at home and play, that wouldn't be accurate," McVay said. "But we know that what's important for us is that to even have those types of conversations, for that to even be a potential possibility for us, we've got to go take care of business with what we can control and that's getting ready for the Philadelphia Eagles and the defending world champs right now. That's exactly what we're doing."