Los Angeles began its season well on Monday night with a 33-13 victory over Oakland. While the Rams were down by three at halftime, they came back to score 23 unanswered points in the second half to come away with the victory.
Here are five takeaways from the first week of the regular season.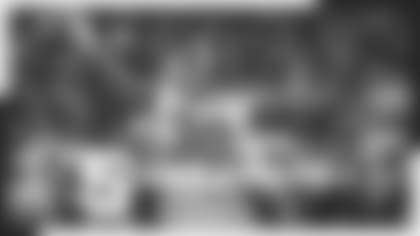 1) DEFENSIVE ADJUSTMENTS WORK WELL
One of the key storylines heading into the game was how would the Raiders elect to attack the Rams' defense? That was unclear a number of standpoints — particularly because Raiders head coach and offensive play caller Jon Gruden had not coached a game since 2008.
As it turned out, Oakland deployed former Rams tight end Jared Cook with strong results in the first half. Cook caught six passes for 113 yards in opening 30 minutes and finished with nine receptions for 180 yards. But, 35 of those yards came on Oakland's final two possessions, when the game had largely been decided.
Cornerback Aqib Talib described the first half as a "freestyle game," but then defensive coordinator Wade Phillips and the rest of the staff made necessary adjustments. 
"Our coaches came in and they broke it down good," Talib said. "Our coaches gave us great information and we did a good job taking it to the field and stopping a lot of what they were trying to do." 
That's where having Phillips creates a significant advantage.
"He's the GOAT. He's the GOAT, man. His daddy was the GOAT — it's in his blood. They've got GOAT blood," Talib said, referring to Phillips' father, longtime NFL coach Bum Phillips. "They're the best, man. You try to attack him one way, he's going to come out in the second half — he's going to have something for you. So that's one of the main reasons I'm here. I love playing for him."
2) A NEW WRINKLE FOR THE OFFENSE
Running back Todd Gurley's first touchdown displayed something new from head coach Sean McVay's offense.
On 1st-and-10 from the Oakland 19-yard line, Gurley lined up wide on the outside on the left with quarterback Jared Goff in shotgun. Goff signaled for Gurley to come in motion to the right, then raised his leg to indicate for center John Sullivan to snap the ball. At that point, Gurley started running full speed, Goff shoveled the ball forward to Gurley, and with good blocking in front of him went all 19 yards to the end zone. 
It was a creative play to get Gurley in space. And both quarterback and running back had a feeling it would end up in the box.
"Yeah, I knew they weren't going to be ready for that," Gurley said with a smile postgame. "I told coach I was going to be the first one to score on that." 
"Yeah, that was a good one," Goff said. "That was one we've been practicing. And it came down the pipe in the headset and I go, 'Oh, this might score.' And sure enough, it did."
3) FLIPPING THE SCRIPT IN THE SECOND HALF
A significant part of the reason Los Angeles was down by three at halftime was because Oakland dominated time of possession in the first half. The Raiders ran 39 plays to the Rams' 20, holding the ball for 21:31 to the visitors' 8:29.
L.A. was 0-3 on third down as well, which didn't allow L.A. to get into a rhythm.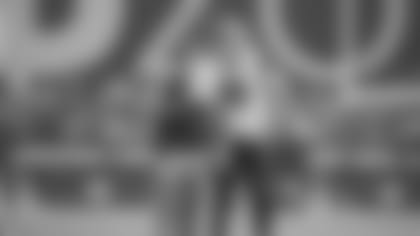 "They did a good job keeping the ball away from us. Teams are going to do that, and we've just got to respond accordingly," I think we only ran 20 plays or so in the first half. And whenever that happens, it's hard to get in a little bit of a rhythm. We scored quick and then we went three-and-out — couldn't really sustain long drives, I guess. And that can hurt. But in the second half, we were able to do that and responded well."
The Rams did respond well, largely flipping the time of possession and the number of plays run. L.A. had 40 plays in the second half to Oakland's 25, converted 4-of-8 third-down opportunities, and ended up possessing the ball for 28:29. That led to the 23-0 final 30 minutes.
"I don't think we played up to our standards in the first half," Goff said. "And the second half, we came out and we did."
4) NEW DEFENSIVE PIECES SEEM TO FIT
The Rams are integrating seven new starters into their defense, and they all seemed to fit pretty well on Monday night.
Two of them — inside linebacker Cory Littleton and cornerback Marcus Peters — had key interceptions during the game. And defensive tackle Ndamukong Suh recorded four tackles and a quarterback hit. 
"Ah, that [stuff] was fun," Peters said of playing extended minutes for the first time as a unit. "We just getting started though — you feel me? You see how we looked. We looked pretty cool."
"It was fun," Suh said. "It was fun. I enjoyed it — to say the least. But I think there's a lot of things that we'll learn on film, things that we've got to correct and go from there." 
5) ROOM FOR RED ZONE IMPROVEMENT
Los Angeles was only 2-of-5 in red-zone efficiency, scoring two touchdowns but kicking three field goals. Gurley's 19-yard touchdown and wide receiver Cooper Kupp's eight-yard touchdown reception were successful trips inside the 20-yard line.
But even though kicker Greg Zuerlein was able to win NFC Special Teams Player of the Week for kicking four field goals through the uprights — including a 55 yarder, two from 20-yards out, and another from 28-yards out — McVay and the Rams would like to improve in the red zone.
McVay was particularly self critical on Tuesday when discussing that aspect of Los Angeles' offensive performance from Monday night.
"I thought I really hurt our football team in the red zone, with just some of the play selections, putting us in some tough spots," McVay said. "I can't remember a time that I've ever been a part of a team where you end up having three 1st-and-goals from the nine. That ends up being a tough area — that first play and then that second play ends up being instrumental to try to avoid some of those tough situations where you're 3rd-and-7 from the seven. But, I thought in terms of the play selection, especially in the red zone, third down as a whole — I've got to be much better for our football team and those are things you have to look at yourself critically and be better for them."