Los Angeles' defense, offense, and special teams were all on point in the club's 34-0 shutout victory over Arizona. 
Here are five takeaways from the contest.
1) ONE OF THE BETTER DEFENSIVE PERFORMANCES YOU'LL EVER SEE
Los Angeles' star-studded defense is supposed to perform well on a game-to-game basis. And scoring only six points over the first two games, Arizona clearly has myriad offensive issues to work out. 
But the Rams' defensive performance was particularly notable on Sunday. 
The Cardinals managed only three first downs against the Rams' first-team defense in three and a half quarters. Arizona's final two first downs came during their final possession once Los Angeles had put its starters on the sideline. Per ESPN Stats and Info, five first downs ties a franchise low for the Cardinals since at least 1950.
The visitors also ran just one play in Rams territory — the final snap of the game.
Quarterback Sam Bradford threw for only 90 yards, averaging 3.33 yards per attempt. That's his lowest output when playing an entire game for Bradford's whole career. 
The Rams have also recorded two "home" shutouts in a row over the same team in consecutive seasons. Per NFL research, it's the first time that's happened since 1949. 
Those numbers are why head coach Sean McVay agreed that Sunday's defensive performance was one of the best he's ever been a part of in his coaching career.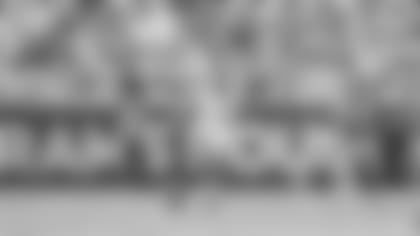 2) 'BONES' GETS IT DONE ON SPECIAL TEAMS
Special teams coordinator John Fassel — known around the building as 'Bones' — has coached one of best special teams units in the league since he arrived with the franchise back in 2012. He continued to prove why that's so on Sunday. 
L.A. came into the contest knowing JoJo Natson would be filling in for All-Pro returner, Pharoh Cooper. And Natson filled in seamlessly, averaging 22.2 yards on six punt returns — including a long of 60 yards to set up a Los Angeles touchdown at the end of the first half. 
But Johnny Hekker's performance as a kicker was even more notable. McVay relayed the Rams learned just before kickoff that 2017's leading scorer Greg Zuerlein had injured his groin and would be unavailable. That meant Hekker would have to assume both kicking and punting duties. 
Hekker booted his first career field goal and extra point through the uprights, scoring four points on the day. 
McVay awarded both Natson and Hekker game balls for their performances.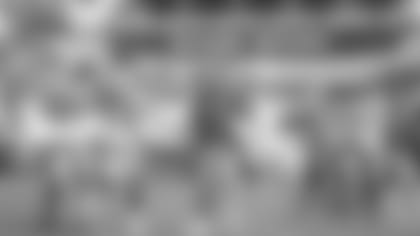 Another factor in Zuerlein's absence was McVay changing his strategy around extra-point attempts and going for it on fourth down. 
On Los Angeles' first three touchdowns, McVay elected to go for two — and each time the Rams' offense rewarded the head coach's confidence by converting the opportunities. Running back Todd Gurley ran in the first two, and then quarterback Jared Goff hit running back Malcolm Brown in the middle of the end zone for the third. 
"The guys did a good job," McVay said. "You know, to be able to execute — those are some tough-earned yards, a lot of plays in the tight-red area where things are condensed in and jumbled down in there." 
The Rams weren't quite as successful on fourth down, converting one of their three attempts. Had L.A. been more successful in that area, the club could have won by an even larger margin.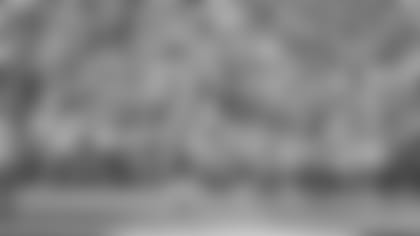 4) IF TEAMS KEY ON GURLEY, L.A. HAS OPTIONS
Early on in the game, it was clear Arizona's main defensive focus was to stop Gurley from running the ball. The Georgia product finished the first quarter with -1 yards on six carries. 
Gurley realizes that's likely how teams are going to try to play the Rams' offense throughout the season. And he's OK with that, if it means his teammates are the benefactors. 
"That's what coach McVay does — he's just such a great coach. Just putting everybody in, in so many different positions, doing so many different schemes," Gurley said "Having me catching Jared's squibs — catching the ball or running the ball. Even got Cooper Kupp running the ball. So, it's just so many things that everybody can do – that's what makes this offense so dynamic."
Quarterback Jared Goff did spread the ball around, targeting seven different receivers — including Gurley. The signal-caller ended Sunday a yard shy of his career high with 354 yards passing, completing 24 of his 32 attempts with one touchdown and one interception. Goff's passer rating was 108.1. 
L.A.'s top three receivers — Brandin Cooks, Robert Woods, and Cooper Kupp — combined for 19 receptions for 303 yards on the day. Tight end Gerald Everett caught one pass for 17 yards, and tight end Tyler Higbee caught a three-yard touchdown pass. 
McVay often talks about using all five eligible receivers in order to keep defenses from keying in on just a few matchups. That Los Angeles was able to do so successfully speaks to the club's quality of talent and scheme.
5) COOKS APPARENTLY LIKES PLAYING THE CARDINALS
Cooks is one of two receivers who has recorded at least 1,000 yards receiving and seven receiving touchdowns over the last three seasons — the other being Pittsburgh's Antonio Brown. 
But after Sunday, two of Cooks' top three receiving games have now come at the expense of the Cardinals. 
Back in 2016, Cooks set a career high with 186 yards receiving on seven catches in a 48-41 victory over Arizona in the desert. And then on Sunday, Cooks racked up 159 yards receiving against Arizona — the No. 3 performance of his young professional tenure. 
Cooks now has 246 yards receiving over the first two games, which is the most by a Ram in a season's first two weeks since the legendary Isaac Bruce recorded 323 yards back in 1998.