Though the team faced some adversity with injuries, Los Angeles was able to come away with a 33-31 victory in Seattle — the franchise's third win at CenturyLink Field in the last four years.
Here are five takeaways from the Rams' fifth victory of the season.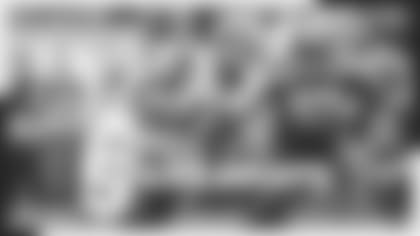 When wide receivers Brandin Cooks and Cooper Kupp had to exit Sunday's game due to injury, Los Angeles called on Josh Reynolds and KhaDarel Hodge to replace them on the field.
But the Rams also had wideout Robert Woods shift from his regular spot on the unit to Kupp's role, which is more of a slot receiver. In doing so, Woods had 90 yards from scrimmage on four touches in the second half — finishing with a total of five receptions for 92 yards, and two carries for 53 yards.
Woods also fair caught a punt for L.A., since Kupp had been taking care of those duties as well.
Head coach Sean McVay said Woods being able to shift seamlessly into a different role on gameday is a fairly unique ability.
"Yeah, I think so, just because of the amount of different things and information that they have to process and things they have to understand being at those different spots. I think that's a credit to the way that these guys approach the game. They don't want to just know what their role is. They want to understand the entirety of, 'What are we trying to get done here? What are the different route combinations? What are the different blocking schemes?' That's a credit to really just having smart, conscientious players."
McVay added Woods earned a game ball for his performance.
2) DONALD GETS TO WILSON…AGAIN
After Sunday's game the Rams have sacked Seahawks quarterback Russell Wilson 51 times — and 8.0 have come courtesy of defensive tackle Aaron Donald.
After L.A. scored its first touchdown of the day, Donald began Seattle's ensuing drive by beating left guard J.R. Sweezy with an inside swim move, enveloping Wilson for a seven-yard loss. Wilson barely had time to set up to pass after faking a handoff to running back Chris Carson from a shotgun formation.
Donald now has 3.0 sacks on the season, having recorded a QB takedown in consecutive weeks. And now 8.0 of Donald's 42.0 sacks have come at Wilson's expense.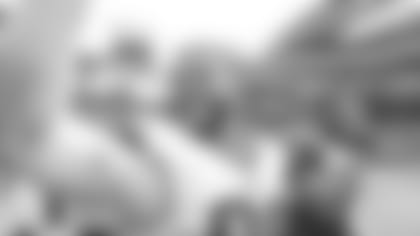 3) SUH HAS MORE SUCCESS ON THE EDGE
Defensive coordinator Wade Phillips has been taking advantage of lineman Ndamukong Suh's versatility to get pressure on quarterbacks — and it's been working.
Suh recorded a sack in his third consecutive game on Sunday, and all of them have come from Suh lining up at left defensive end.
In Sunday's victory, Suh actually got to Wilson twice, but one of his sacks was wiped away from an illegal contact penalty.
On the one that counted, Suh lined up outside the tight end on the defense's left and offense's right. With fellow D-lineman Michael Brockers lined up with an inside shade on the right tackle, the Seahawks chose to have both the right guard and right tackle block No. 90. That left tight end Nick Vannett to block Suh in a one-on-one situation. Suh is listed at just over 50 pounds heavier than Vannett, and used it to muscle his way into the backfield to bring down Wilson for his third sack of the year.
With Suh continuing to show he can be effective from left defensive end, he's likely to continue lining up out there as the season continues.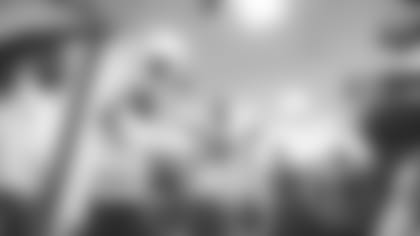 4) GET GOFF TO 300, AND RAMS ARE PROBABLY GOING TO WIN
Quarterback Jared Goff has thrown for at least 300 yards nine times in his young career.
The Rams have won all nine games.
It's happened in each of the last four weeks, as Goff threw for 321 yards in Sunday's victory over the Seahawks. The Cal product previously threw for 465 yards against the Vikings, and 354 yards against the Chargers and Cardinals.
Through give weeks, Goff leads the NFL with 1,727 yards passing. He's No. 2 in completion rate (72.3 percent), No. 2 in yards per attempt (10.4), No. 2 in passer rating (119.7), and tied for No. 3 with 12 touchdown passes.
Goff is currently on pace to throw for 5,526 yards this year. That would set an NFL record, and would make him only the sixth quarterback in league history to throw for over 5,000 yards.
Clearly, there's a long way to go.
5) RUN DEFENSE MUST IMPROVE
Los Angeles surrendered 190 yards on the ground on 32 carries in Sunday's game, Seattle averaging 5.9 yards per carry. Running back Chris Carson finished with 19 carries for 116 yards, and Mike Davis ran it 12 times for 68 yards with a touchdown.
The Seahawks were able to gash the Rams' defense at various points with significant plays, but two third-down runs were killer. On 3rd-and-3 from the Seattle 32 early in the third quarter, Davis ran it up the middle for a 37-yard gain. And later in the same period, Carson ran up the middle for a 21-yard gain on 3rd-and-1 from the Seattle 45.
So, what gives? McVay said the team "needs to address some different things, and there's a reason why each one of those runs popped out.
"What we're encouraged about as you watch it as a staff are they're very fixable things, when you just look at whether it's losing some gap integrity, playing around a block," McVay continued. "Then, you've also got to give those guys some credit. But, there was the one third-down run that popped out where we were in a different front and those are things that are great for us as coaches to look at ourselves and say, 'Alright, what can we do to potentially to avoid this in a situation where they're checking to some of these runs based on a defensive structure.' and you get a chance to learn from it.
"But, I think our players will respond the right way. Really, for us as coaches, that's the beauty of this is being able to look at the film, correct and you move forward."
And it's always better to correct after a win than a loss.