After 16 weeks of the regular season, the Rams are in prime position to clinch a first-round bye with a victory in the final game of the regular season against the 49ers.
But before we turn the page to next week, here are five takeaways from Los Angeles' 31-9 victory over Arizona.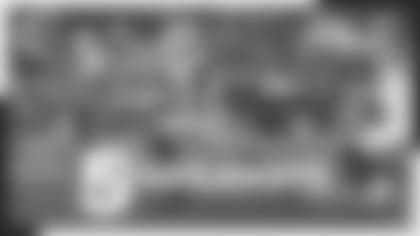 1) WOODS STAYS CONSISTENT
Wide receiver Robert Woods has been remarkably consistent throughout the course of the 2018 season, and now he's in some rarefied air.
With his 89 yards receiving on Sunday, Woods became just the fourth player in NFL history to record at least 60 yards receiving in 14 consecutive games in a single season. Marvin Harrison, Antonio Brown, and Andre Johnson are the only others to accomplish the feat.
"Yeah that's awesome," head coach Sean McVay said postgame. "He's just a great football player. He does so many different things for us. I just think the versatility that he provides — whether it's a route runner, running all types of different routes, whether it's blocking, competing actually when we use him as a running to carry the football — there's not a lot of things that this guy can't do for us and similar to Aaron [Donald], similar to Jared [Goff], these guys that we mention and Robert Woods especially, he's a had a special year and you love these guys."
Woods led the team with six receptions for 89 yards on Sunday. He's now made 84 receptions for 1,195 yards with six receiving touchdowns this season — all of which are career highs. Plus, he's taken 18 carries for 156 yards with a rushing touchdown.
Quarterback Jared Goff played his best game since the bye week, completing 79.2 percent of his passes for 216 yards with a touchdown. Goff did fumble on Los Angeles' opening drive, but McVay said that turnover had more to do with a mix up in pass protection than anything Goff did or didn't do.
Watching Goff go 19-of-24 passing and hitting receivers in stride was likely a pleasant sight for all involved.
"I thought he great command, I thought he did an excellent job commanding the run game, did a good job recognizing coverage, getting the ball where it was supposed to go when we did decide the throw it, and I thought he was extremely efficient and he led the team and that's exactly what you want from your quarterback," McVay said. "He did a great job and that's what we expected."
Goff now has 4,489 yards passing with 28 touchdowns and 12 interceptions. Goff's 4,489 yards are the second-most by a quarterback in a single season in franchise history. Only Hall of Famer Kurt Warner had more (4,830) in 2001.
3) McVAY 'NOT CONCERNED' ABOUT GURLEY
While the Rams were able to win in Arizona without running back Todd Gurley — who was inactive with a knee injury — the club certainly wants him to be available for the postseason. To that end, McVay said he's not concerned about Gurley's potential availability going forward.
"I'm not concerned, if we take it one day at a time," McVay said. "I'm glad that he didn't do anything to set himself back, but I'll defer to those guys in terms of their medical opinion. The fact that he was potentially able to go, I think there's going to be another week of progress made, another week of rehab — you know he didn't set himself back at all today. This wasn't anything structurally, it was more just the overall pounding and different things like that. I think we are optimistic that he's going to be OK."
That's a good sign for L.A. heading into a game the club needs to win in order to secure a first-round bye.
4) MIXING UP THE PERSONNEL GROUPS
For 14 games, Los Angeles lined up nearly exclusively in 11 personnel on offense, with one running back, one tight end, and three wide receivers. That changed in Sunday's game, as L.A. utilized a lot of 12 personnel — with one running back, two tight ends, and two wide receivers.
Switching things up for the Cardinals may have caught the opposition a bit off guard, but the Rams averaged 6.9 yards per play overall to get to 461 total yards, racked up 269 yards rushing, and had 33 total first downs.
"Really just mixing it up a bit," Sean McVay said. "Gerald Everett did a nice job stepping up, but it was just kind of predicated on the game plan that we had this week and you never know what's coming next."
Everett was pretty heavily involved, making five receptions for 28 yards. But then he also took a pair of jet sweeps for 16 yards. Everett's athleticism is a significant piece that L.A. can use going forward.
5) DONALD APPROACHING ANOTHER RECORD
So you've probably heard that defensive tackle Aaron Donald broke the NFL's single-season sack record for an interior lineman. And he also broke the franchise single-season record in sacks on Sunday.
Donald has 19.5 sacks so far in 2018 with one game left. Hall of Fame defensive end Michael Strahan set the league's single-season overall record with 22.5 sacks back in 2001.
But Donald's also approaching another record, via Ryan Perez of Rams PR.
Odds are, if Donald gets one sack next week, he'll break that mark.