To be clear, eating like Aaron Donald is no easy feat. It's also no easy feast. 
Aaron Donald is a 28-year-old defensive tackle, weighing in at 280 pounds. He has 11% body fat.
I am none of those things.
So, to be fair, eating "exactly" like Aaron Donald is not possible for me. It's not really possible for any average human being to eat like him without getting sick.
According to Rams Head Team Dietitian, Joey Blake, if Donald did nothing all day, in order to maintain his size, he would need to consume 2,817.28 calories. But because Donald is an extremely elite athlete, "On his high-volume days, he is basically consuming 5,000 calories." And, despite what you think, the majority of those calories would be more fat than protein given the amount of recovery his body needs.
To give you an idea of what that breakdown looks like, nutrition wise, Blake estimated the following: 50% Carbs, 20% Protein, 30% Fat. 
Or for Donald specifically: 245g of Protein, 616g of Carbs, 164g of Fat.
"It's really a blessing to get an opportunity to really cook for someone like this because it's kind of like getting a gladiator ready for war. I take it really serious." Chef Arron Sain
What's that look like? Here are some crazy examples:
245g of Protein: 6 cups of chicken, 12 Jamba Juice smoothies w/protein, or 30 glasses of milk
616g of carbs: 15 cups of pasta/rice or 20 cups of popcorn
164g of Fat: 7 cups of hummus/avocado or 55oz of fish
… and this is just one day's worth.
So, when I say, I ate like Aaron Donald, I didn't eat a day's worth of 5,000 calories. However, I had his chef, Arron Sain, cook some of Donald's favorite dishes, and I can confirm eating like Aaron Donald is incredible!
"Lil Arron" is a culinary fitness professional. He is both a chef and a personal trainer. Chef Arron has worked with some big named celebrities, including Nick Cannon and Fantasia. He fell into this opportunity while standing in line at Urban Plate in Thousand Oaks.
"I had no idea who Aaron Donald was." Sain said, "I was just standing in line and he came up behind me." To be fair, Sain's uncle was once the running back's coach at NC State, so when a guy like Aaron Donald comes up behind you, you immediately ask, "Who do you play for?"
Sain proceeded to tell Donald, "I have my own line of seasonings, can I give you one?" He rushed out to his car and handed Donald a packet of seasoning. They chatted for a few minutes more and Sain ended the conversation with, "I'm a chef too. If you want some meals, I'll bring you some." And just like that, Sain exchanged a packet of seasoning for Donald's number.
He's been cooking for Donald for about a year now and has been enjoying the challenge. "It's really a blessing to get an opportunity to really cook for someone like this because it's kind of like getting a gladiator ready for war. I take it really serious."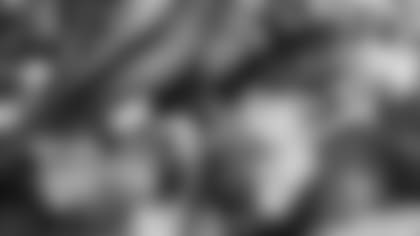 Sain cooked up two of Donald's favorites: The Breakfast Tacos and Dancing Meatballs.
The Dancing Meatballs got their name because when Donald first tried them, he danced because they were so good. Sain told me this is usually more of a "cheat day" appetizer. "I would make this for him earlier in the week."
And as for the Breakfast Tacos, it's "the meal Aaron craves the most." Although, Donald told Sain "Food wise, I will give anything a chance."
We know Aaron Donald is special; numbers show that. His records show that. But, when I ate the food Chef Sain cooked up, I also felt special. Not all athletes have personal chefs, so taking the first bite straight from the cast iron skillet made me dance too. The meatballs were hearty and have a ton of flavor. The mix of veggies and warm tomato sauce surrounding the oven-baked meatballs topped with melted cheese would probably make most people dance. You get a little bit of everything all in one bite.
And there's no question why the Breakfast Tacos are what he craves most. They are very filling. There is no way I could eat the amount Donald does. They're substantial tacos. I hardly finished one. I would definitely need a nap after eating more than two or three tacos, unlike Donald, who eats six before practice. When you have to cram 5,000 calories in a day, every meal can feel like a competitive eating competition, especially to an average-sized person. But the tacos are magical. Crispy, buttery and fun to eat.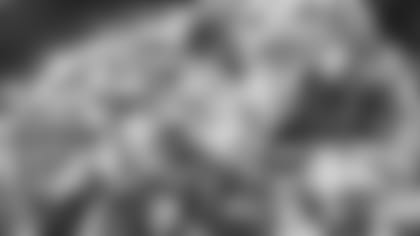 You can eat like AD too! (Here are the two recipes)
1 cup of ground croutons (whatever seasoned ones you want)
Red pepper flakes (optional)
Sauté diced onions and diced green peppers in a cast iron skillet.
Add tomato sauce of your choosing.
Once the meatballs are cooked in the oven.
Add cooked meatballs to sauce in the cast iron skillet.
Top with mozzarella cheese
Put the whole skillet in oven until cheese is melted and golden brown.
10oz Spicy turkey sausage
Fresh cracked black pepper
Sauté all vegetables in hot skillet with olive oil
Add spicy turkey sausage (cooked well done)
Add eggs to sausage and vegetable mixture
Season with salt and pepper to taste
Assemble taco directions:
In a hot skillet add olive oil
When oil is hot place tortilla in skillet
Cook tortilla until lightly golden brown.
Add a generous amount of sausage, egg, and vegetable mixture. Go ahead and add a little more. You earned it.
Finish with cheddar cheese.
Fold taco and remove from skillet.