INDIANAPOLIS— A 17-year-old high school student and her mom are standing in a long line outside of Lucas Oil Stadium waiting to watch the NFL combine. The mother-daughter duo flew in from Delaware, granting the high school senior's Christmas present wish.
Newly announced Los Angeles Rams Director of Football Operations Sophie Luoto is inside Lucas Oil Stadium wrapping up the 12 formal interviews that were held with draftees that morning. It's the first day of workouts, so Luoto heads to the viewing suite to make sure everything is set up before the tight ends, wide receivers and quarterbacks begin on the field. Luoto then sneaks into the fan viewing section to find a mother and daughter from Delaware.
The high school senior spent the next thirty minutes lost in conversation with her new role model, Luoto, about football, high school graduation and just life. The young woman had wanted to play football but didn't feel like she had the opportunity, so instead decided she would still find a way to be a part of football. She started working with her high school football team and shadowing the University of Delaware's football operations staff.
On the other hand, Luoto never knew football operations would be her future as a high school senior. She was certain, though, that UCLA was where she wanted to earn her degree. As she went in as an undeclared major and as the thought of being in the "real world" in four years set in, Luoto candidly admits it became scarier not having a direct path. She started looking for a job, deciding it should be somewhere on campus to obtain an additional connection to the school.
"What better way than working in the athletics department?" she had asked herself.
"And what better way than working for a sport that I know nothing about – outside of some things as a fan of course," Luoto laughed.
Next thing she knew, she met with Angus Mcclure, the recruiting coordinator at the time, who basically hired her on the spot.
Heading into her new office with minimal expectations, it didn't take more than a month or so for Luoto to come to the realization.
"This is what I'm supposed to be doing," Luoto proclaimed. "I loved it more than anything else I ever possibly touched or been exposed to in my 20 years of life."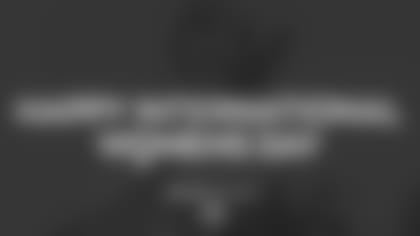 Luoto began her work as a student recruiting assistant and ended up graduating in three years. She took what would have been her senior year in college and worked full time in the office, while also balancing other internships and working at a restaurant to pay the bills.
"I just absolutely loved every single minute of it, and I found myself just 100 percent wanting to be at the office all the time no matter what," Luoto said.
A lot of that time was spent trying to fully learn and understand football. She came in with a disadvantage compared to most of the other interns who played college ball or had at least played in high school.
"I didn't understand the language," Luoto explained. "I didn't understand what they were talking about most of the time, so I just really put my head down and tried to outwork them –and I had to to be able to be even almost on par with their understanding and their skill sets."
Unfortunately, the head coach at the time ended up being fired. When that happens, a lot of changes are inevitable.
As Luoto looked for her next move, she decided to explore different interests and work at IMG broadcasting with an agent there. It was an exciting opportunity where she was learning a lot, but something was still missing.
"I truly, truly missed football every single day," she reflected. "I wanted to be back in football."
Luoto then blind applied online to a job at UC Berkley, or for most people, Cal.
She conquered the first interview and then flew up to the Bay for the second interview. Not knowing anyone on the coaching staff, she got her opportunity at Cal.
"The head coach Sonny Dykes really, really gave me the latitude to learn on the fly and be put to the fire," Luoto said.
She wrote a recruiting system and then quickly became named the director of operations.
From that moment, Luoto really got the whole breath of what the division one football program needs and all that it takes to be successful in that role. She had a hand in all of their academics, admissions, recruiting calendar, upload strategy, traveling and even helping with social media.
After three seasons, an email pinged into Luoto's inbox. It was from a man named Kevin Demoff, the Los Angeles Rams Chief Operating Officer.
"I honestly thought he was emailing to ask about Jared [Goff]. They had just drafted him number one overall. I knew Jared well, obviously being a big part of the Cal program, and decided to give him [Demoff] a call," Luoto described.
"Do you like your job and what you're doing?" Luoto recalled Demoff asking.
And she did. Luoto told him how she loved what she was doing and also her love for the program, including the staff and kids.
Demoff asked if she had ever thought about working in the NFL to which she replied she hadn't because she loves college football and the thought hadn't crossed her mind.
"Well, maybe you should think about it," Demoff encouraged.
A week or so later, they spoke on the phone again. This time, Demoff shared both his and Mr. Kroenke's vision.
"The opportunity in L.A., what the Rams were building and the transition, obviously, from St. Louis to Los Angeles and just all of the incredible opportunities that we're going to be really kind of stowed on this organization in the next decade," Luoto recalled.
That was all she needed to hear.
Luoto started out managing operations as they pertained to Demoff and the Kroenke family, when in relation to the Rams. She became the "picker upper" of a lot of different little things and helped run the business operations.
"The most unique piece of my role is that I had the opportunity to be really at the right hand of Kevin [Demoff] and be able to understand so much of what we, the Rams, are trying to really do and achieve in our market."
After a few years of working hand in hand with Demoff and other Rams leaders across the business side, Luoto was asked to come back over to the football side to help with all of the personnel operations.
This included everything from the scouts' travel budget, the combine, player visits, draft operations to training camp: basically, anything and everything that includes the scouts.
After a year and a half of learning personnel operations and also building an understanding of all the things that go into SoFi Stadium, a new practice facility and more, Luoto once again earned the director of operations title.
But this time, for an NFL team.
"I didn't ask for it," Luoto said explaining how she got this opportunity. "I put my head down and I dominated every role I was given."
Sophie Luoto proves that hard work and determination matter more than gender.
"It means that our leadership, both the men and the woman, in our organization trust and believe in me and thought that I was the best candidate for the position, which didn't matter whether I was female or male, but instead the best candidate for the role."
And as the Rams continue through an exciting offseason with a new logo, uniforms and stadium, Luoto and the operations team will be full steam ahead planning travel when the schedule is released and preparing for the draft, training camp and, of course, the new state of the art stadium.
L.A.'s vastness makes for challenging logistics, but luckily Luoto has experience navigating the unknown.
"I think the biggest piece of operations is always thinking ahead while also being flexible enough to fix in the moment," Luoto said. "The [operations] team is really going to try to make sure that everything is set up for the most success for our team and also with being flexible enough to ensure that we can always find solutions when we need to for the entire organization."
It's the acceptance of challenge, being flexible and never backing down that has gotten Luoto to where she is now.
When asked about the significance of being a woman in a leadership role across both the organization and the league, Luoto reiterated the importance of seeing the qualifications that truly matter.
"I'm just so grateful that we truly focus on finding the best human to take leadership roles in our organization and the gender or race or any other differences that us humans have aren't the focus for that, that we try to find the best candidates for our organization."