INDIANAPOLIS – Similar to the 2019 season, the Rams will follow a course of action to keep running back Todd Gurley fresh.
Speaking to reporters at the NFL Scouting Combine, Rams general manager Les Snead indicated he was encouraged by last year's approach to managing Gurley's workload and that Los Angeles will "still have some sort intentional plan" for him this upcoming season.
"The goal is very similar to what we'd do with our wide receivers: the more snaps they play early, the less fresh they are later," Snead said. "So that's running backs, that's usually a lot of people that spend a lot of time running a lot of yards on the football field. So all that science is coming to, you want to utilize it, but you still want to win the game at hand and be intuitive of how you use things."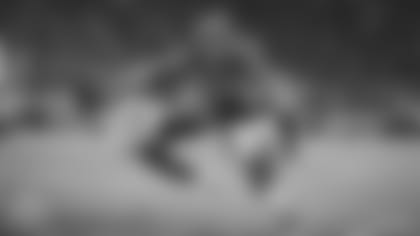 In his fifth NFL season, the 25-year old Gurley reached double-digit rushing touchdowns for the third straight season with 12, moving him into a tie with Marshall Faulk for first on the franchise's career rushing touchdowns list (58). After rushing more than 15 times in a single game just once through the first seven weeks of the season, he surpassed that mark in five of his final eight games, including a season-high 25 carries for 97 yards and one touchdown against the Bears in Week 11. He missed only one game due to a quad injury.
"I would say the good thing about that plan is that Todd was available," Snead said. "I mean, he was playing last game, what you didn't notice, he was fresh in the red zone, didn't score as many TDs here as he had in the past but was still probably (a) top-five touchdown maker. There was definitely some positive effects of trying to come up with a good way to keep him (fresh) – and again, it goes with our wide receivers, it goes with our tight ends, probably less our offensive linemen, but the players who are spending a lot of time running a lot of yards, how do we keep them fresh, beginning of the game, end of the game, September, October, into January. That science is all new, and we're all trying to utilize it to the best of our abilities."
When Rams head coach Sean McVay spoke to reporters last offseason, he said the team had a plan that was "really specific" for Gurley. Whether that remains the same this offseason and in training camp remains to be seen.
"We're working through that right now," McVay said. "With a guy like that, it's no different than an Andrew Whitworth (who) has a different plan of approach. You want to be consistent, but I think certain guys, just understanding the workload that their specific position entails or what is the best way to really have a long-term solution for getting through the entire season, so we've been consistent with that with Todd, really from when I first got here, I think it was just something that was talked about a little bit more because he missed a couple games towards the latter half of the '18 season, but those are things that you want to be able to be specific with each player, while still being consistent in the big picture and those are things that as we get closer to those dates, we'll discuss a little bit more."
McVay said Gurley's production last year wasn't representative of what he is still capable of, pointing to inconsistencies the offense as a whole experienced.
"We just weren't consistent enough as an offense, being able to make people honor that threat of running the football," McVay said. "Then when we did commit to it, I thought we had some good results but then also it wasn't consistent enough. I think, in a lot of instances – like sacks are unfairly pegged on the O-line, the run game is not exclusively a result of what a running back can do. I think the running game is truly a representation of all 11 and their contribution."
McVay is also confident Gurley can still be a running back who can give the Rams 18-20 carries in a game.
"I know that I can do — and I'm very confident that we will do — a much better job of activating things that you think you have better answers for our players," McVay said. "Those are things that, we've already really started diving into that process and being diligent about that."