Heading into the 2004 NFL Draft, Rams legend Steven Jackson did not have a mentor helping him navigate the scouting combine nor any other aspect of the pre-draft process.
So when the league's Legends Community called and asked if he'd like to mentor the running backs invited to this year's combine, he "jumped at the opportunity."
"The mentorship role that the league implemented this year was the added touch that I believe all rookies or participants will benefit from," Jackson told theRams.com in a phone interview Friday. "I wish I would have had it."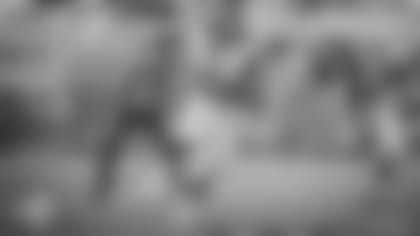 Jackson joined 13 other members of the Legends Community to help steer combine invitees through their busy week in Indianapolis. This is the sixth year of the program, which is part of the NFL's continuous efforts to connect the game's greats with current NFL players and the next generation of stars.
The week began with Jackson having dinner with the running backs invited to the combine on Monday and Tuesday. They also met each morning to go over what the day had in store for them, whether it was medicals, interviews or on-field workouts. The mentors were present for their corresponding position group's on-field workouts at Lucas Oil Stadium as well.
"We had a chance to have dinner with them then earlier in the week, kind of get acquainted with one another and share our story," Jackson said. "Outside of that, we would meet with them in the morning, started by talking about what they had on their agenda, what they had to get done, if there was any questions. We shared some light stories, maybe MRI, knowing when to load up on protein and things like that, because they were probably not going to eat for a number of hours. Just giving them some guidance so they didn't have to think as much about some things and they can just really focus on nailing their interviews and making sure that they're hydrated and things like that."
Of course, with the on-field workouts in primetime and interviews taking place during the day instead, there was also the schedule itself that all involved had to get acclimated to.
"It was a new schedule for everybody, not only the participants but the mentors and staff," Jackson said. "So it was quite an adjustment. So for those guys to not only realize it was an adjustment for us, people who have been a part of the NFL, but for them (as well), it allowed for them to know these things are unusual, it's a relatively long day and whatever they need, they have people and resources to help ease the day, ease the stress that they were feeling."
Mentor or no mentor 16 years ago, Jackson managed just fine.
The Rams selected him with the 24th overall pick in the 2004 NFL Draft and he went on to enjoy a 12-year NFL career, including nine seasons with the club from 2004-12. Jackson was named to three All-Pro teams and three Pro Bowls and finished his career as the franchise's all-time leading rusher with 10,138 yards.
Now, his goal is to impart the wisdom he collected from more than a decade in the league onto its incoming players.
"It was a week's worth of advice, (so) I don't know which (piece) probably stands out to each guy. I'm hoping differently (for each guy) for different reasons," Jackson said. "One thing that I always make sure that I share with any rookie coming in is that they know, the season is going to be long and the career hopefully is even longer, but with that, there's going to come ups and downs. They're going to be combated with some things that they never thought they'd be challenged with. But the thing about it is, just continue to be consistent and show up daily. And with that consistently and showing up daily, those things work themselves out and they become wiser and smarter from it and are able to anticipate what may happen in the future."