On-field workouts for the 2020 NFL Scouting Combine began Thursday and will run through Sunday. Quarterbacks, wide receivers and tight ends completed their athletic testing on Thursday, followed by running backs, offensive linemen, special teams and place kickers on Friday. Defensive linemen and linebackers took the field at Lucas Oil Stadium to do the same on Saturday.
Besides offensive line, experts' projections have most commonly identified defensive line and linebacker as the other two of three positions the Rams could potentially target early in this year's NFL Draft. Using those projections, theRams.com examines how a pair of those prospects fared on Saturday.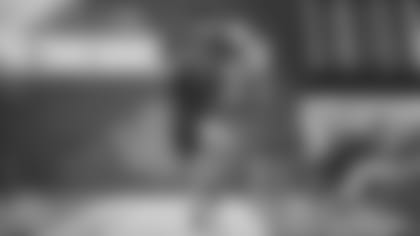 Utah defensive lineman Bradlee Anae
Table inside Article

| Drill | Result |
| --- | --- |
| 40-yard dash | 4.93 seconds |
| 10-yard split | 1.69 (unofficial) |
| Bench Press | 25 reps of 225 pounds |
| Vertical Jump | 31.0 inches |
| Broad Jump | 115.0 inches (9 feet, 7 inches) |
| 3 Cone Drill | 7.44 seconds |
| 20-yard shuttle | 4.43 seconds |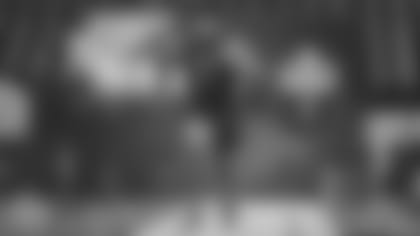 Ohio State linebacker Malik Harrison
Table inside Article

| Drill | Result |
| --- | --- |
| 40-yard dash | 4.66 |
| 10-yard split | Unavailable |
| Bench Press | Did not participate |
| Vertical Jump | 36.0 inches |
| Broad Jump | 122.0 inches (10 feet, 2 inches) |
| 3 Cone Drill | 6.83 seconds |
| 20-yard shuttle | 4.32 seconds |
Why these drills and numbers matter
The 40-yard dash measures explosion from a static start, but arguably the most important number within that is the 10-yard split, which helps evaluate the quickness of an edge rusher's first step. "The timing of a pass rusher's 10-yard split is an excellent indicator of how quickly he can explode off the ball and cover the ground needed to get after the quarterback," according to NationalFootballPost.com.
In his takeaways from Day 3 of the combine, NFL Network draft analyst Daniel Jeremiah said he was looking to see how athletic and explosive Anae was, especially Anae's 10-yard split – later reported as 1.69 seconds unofficially and fairly close to the target threshold.
"It's really about that first 10 yards simulating that get off the line of scrimmage as an edge rusher," Jeremiah wrote. "That's the number you're keeping an eye out on. The mark there is 1.65. That's what you're shooting for."
Another drill to pay close attention to for defensive linemen and linebackers is the 3 Cone Drill. "This drill is all about assessing a player's ability to change directions quickly, bend and accelerate," ESPN NFL Draft analyst Todd McShay wrote in his guide to the combine.
Of note, Harrison had the fastest 3 Cone time among the 18 linebackers who participated in the drill.
Meanwhile, the 20-yard shuttle tests the athlete's lateral quickness and explosion in short areas – two key traits for a linebacker. "Being an NFL defender is all about reaction: How quickly can you diagnose a play, come to a stop and explode toward the ball? And the 20-yard shuttle showcases a player's body control as he is changing directions," McShay wrote.
Scouts evaluate prospects' endurance and upper-body strength through the bench press, while the vertical jump helps them assess a prospect's lower-body explosion and power. The broad jump helps a scout measure a prospect's lower-body explosion and lower-body strength.
Anae tied with Mississippi's Qaadir Sheppard for the 12th-longest broad jump among the 29 defensive linemen who participated in the drill.
Below are the minimum target results NFL Media senior analyst and personnel guru Gil Brandt, who spent 30 years as the Dallas Cowboys' vice present of player personnel from 1960-89 and was inducted into the Pro Football Hall of Fame in 2019, looks for when evaluating prospects at the combine.
Note: Appalachian State linebacker Akeem Davis-Gaither, who appeared in the second mock draft roundup, only participated in the bench press (21 reps). NFL Network's Tom Pelissero reported Saturday morning that Davis-Gaither will undergo surgery for a partial stress fracture in his right foot next week.
Additionally, Tennessee linebacker Darrell Taylor, who also appeared in the second mock draft roundup, did not participate in any drills this week after undergoing surgery to repair a fracture in his left leg, according to Pelissero.