The 2020 NFL Scouting Combine will take place Sunday, February 23 through Monday, March 2. In advance of it, theRams.com compiled a quick primer on what to watch for, including new drills, and possible targets for the Rams according to experts and more.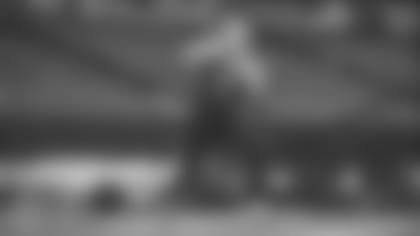 The NFL introduced 16 new drills while eliminating 10 existing ones for this year's combine. Around The NFL's Nick Shook reported defensive backs will see the most change, with more than 50 percent of their workouts featuring new drills.
In mock drafts, offensive line, defensive line and linebacker have been the most commonly identified positions of need for Los Angeles in the upcoming NFL Draft. Here's how the new drills will impact those groups specifically, according to Shook:
Offense linemen will have a new mirror drill and a new screen drill.
New mirror: Player lines up at set point between middle of two cones roughly six yards apart and slides laterally left and right based on coach's direction. Drill places emphasis on feet and change of direction ability of player with at least four movements to right and left.
New screen: Player will set in pass protection position, then release and sprint toward first coach holding blocking shield 15 yards wide of starting point to simulate engage and release action of a screening lineman. If the first coach steps upfield, player must adjust direction and advance to second coach, at whom he will break down and engage. If first coach remains stationary, player will break down and engage him (and will not advance to second coach).
Miscellaneous: Pull drills will include engaging a one-man sled instead of a bag. Inclusion of "rabbit" is eliminated in pass rush drops and pass pro mirror drill, with a coach's hand motion changing direction of lateral slide in latter drill.
Defensive linemen will have a new run and club drill and a run the hoop drill, while the stack and shed drill has been eliminated.
Run and club: Five stand-up bags are in a vertical line, five yards apart, with the final bag including "arms". The defender will fire out of a three-point stance and run through the bags, clubbing the first with his right arm, spinning on the second bag, clubbing the third bag with his left arm, ripping through the fourth bag and flattening downhill to slap bag with arms to simulate a strip.
Run the hoop: Two pass-rush hoops are laid on the ground two yards apart, forming a figure eight. Two towels are inside the hoops, one in each. The player lines up at a start cone (to right of hoops) in a three-point stance, fires off at movement of a ball on a stick (simulating snap), runs around the first hoop, picks up the towel with his left hand, crosses to the second hoop and drops the towel, continues around the second hoop, picks up the towel with the right hand and crosses back to the first hoop and drops the towel before finishing through the start cone.
And for the linebackers, there will be a new shuffle, sprint, change of direction drill and a short zone breaks drill, while the pass drop drill has been eliminated.
Shuffle, sprint, change of direction: In a measure of a player's quickness and agility, the defender will start in a two-point stance five to seven yards outside the hash before shuffling across the field. He'll then open his hips and sprint on the coach's command, then change direction on command and finish with a catch of a thrown football.
Short zone breaks: Three different route reactions are involved here. First, the player drops at a 45-degree angle, flattens out at five yards and breaks forward (simulating breaking on a short out) before catching a ball. Then, the player drops at a 45-degree angle, flattens at five yards again and breaks inside (simulating breaking on an underneath route) and catches the ball. Finally, the player takes a flat drop and reacts to a coach's signal to turn and run with a wheel route before catching a ball.
Washington offensive tackle Trey Adams is one of the more popular offensive line picks for the Rams, going to them in the second round as their first selection of the draft. That projection of the 6-foot-8, 314-pound offensive tackle coming to Los Angeles depends on whether the club re-signs pending free agent left tackle Andrew Whitworth.
At defensive line, edge rushers like Utah's Bradlee Anae and Tennessee's Darrell Taylor have also appeared in mock draft projections for the Rams. Similar to the Adams pick, though, it figures to be influenced by free agency decisions surrounding players like linebacker Dante Fowler and defensive lineman Michael Brockers.
The linebacker position, meanwhile, most recently saw Ohio State's Malik Harrison and Appalachian State's Akeem Davis-Gaither slotted to the Rams as their earliest choice next month. Free agency decisions surrounding Fowler and inside linebacker Cory Littleton would likely be at play here.
Sticking with three most likely positions of need, here's when you can watch each group's on-field workouts next week live on NFL Network:
OL: Friday, February 28, from 1 p.m. to 8 p.m. pacific time.
DL: Saturday, February 29, from 1 p.m. to 8 p.m. pacific time.