INDIANAPOLIS – There is continuity among the staff with the amount of assistant coaches returning, but there are also new voices overseeing the Rams' offense, defense and special teams in offensive coordinator Kevin O'Connell, defensive coordinator Brandon Staley and special teams coordinator John Bonamego.
Consequently, that also means there are new and more voices Rams head coach Sean McVay and general manager Les Snead are collaborating with as they continue their preparations for free agency this year's NFL Draft. That of those new hires will be felt the most on defense, according to Snead.
"It definitely does change (our approach), probably more on defense than offense, in that, okay, let's really sit down with the two new coordinators, but because Brandon's philosophy is going to be slightly different than Wade's," Snead said at the NFL Scouting Combine last week. "Which positions are most important? What type of players do you need playing those positions? Do we have them? If we don't, can we get by? So those are very, very important and will be fruitful meetings before free agency starts and the draft."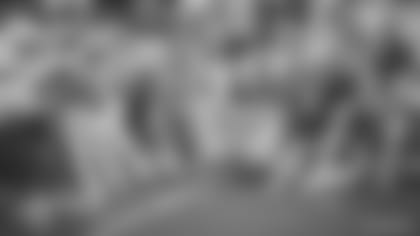 Since Snead and McVay began working together in 2017, they've evaluated prospects with input from veteran defensive coordinator Wade Phillips. However, Los Angeles chose not to retain Phillips after the third and final year of his contract expired following the 2019 season, choosing to instead hand the reins over to the 37-year-old Staley.
Staley and other key Rams decision-makers have a trio of tough choices to make over the next two weeks heading into free agency, and after that the draft.
Those meetings will likely center around defensive lineman Michael Brockers, outside linebacker Dante Fowler and inside linebacker Cory Littleton, all of whom are pending free agents.
"As close as we can get," Snead said, when asked how much those decisions will impact who they target with draft position in mind. "Now, we probably have the initial draft board set and that always helps when you know which underclassmen are coming out-- who is staying in. Now you can ultimately start determining who probably has a chance at 50, who doesn't. Which positions you're maybe deep, thin and if they are thin and you needed one, maybe you do need to ensure that through free agency. So that's the part of the process we're in is matching out draft board with the free agent board, of being realistic where you may be able to pick players and if you don't pick them at 50, who might still be available in the third round and that gets a lot harder."
Snead said the Rams have identified their positions of need, but politely declined to specify. However, Staley does have an idea of the mold a player should fit at each of those positions.
For Staley, the outside linebackers in his 3-4 defensive scheme should be able to set the edge versus tight ends and "dominate" the edge in the run game – two defining characteristics of defenses led by Broncos head coach and former Bears defensive coordinator Vic Fangio, whom Staley worked under for the last three years as outside linebackers coach before coming to L.A.
"I think it's something that's not talked about enough," Staley told theRams.com. "It's been the hallmark of where we played before."
At inside linebacker, Staley looks for instinctive players who are "great processors" and "outstanding tacklers" with the ability to communicate and lead effectively.
"(Outside linebacker and inside linebacker) are two different positions, but we definitely have a lot of specifics that we're looking for," Staley said. "And a lot of them are currently in place, so it's going to be exciting to work with the guys here."
Versatility, meanwhile, is a key piece for the defensive linemen and defensive backs Staley will work with, as well as connectedness between the two groups. Defensive tackle Aaron Donald has lined up at multiple positions along the defensive line, while Taylor Rapp has seen snaps at both safety and as a dime linebacker.
"That's something you'll probably hear me talk about a lot, having the versatility to play any place in the front, any place in the back," Staley said. "We're fortunate that we have that here, guys that have played a lot of roles. Groups that are connected, (because) those groups depend on each other a lot."
Free agency officially begins March 18 at 1 p.m. pacific time. A little more than a month later, the Rams will be on the clock with the No. 52 overall pick in the draft barring an unforeseen trade into the first round.
Until then, it's safe to say there will several conservations about how to best equip Staley to run his defense effectively.