It is Mock Draft Monday on theRams.com, where we will be taking a look at various experts' projections for who the Rams will select in this year's NFL Draft.
Although Los Angeles does not have a first round pick in this year's draft, there are still some outlets which produce mock drafts that go beyond the first 32 selections. Those are what we will be using to highlight predictions for L.A. The Rams' first pick in the draft will be No. 52 overall in the second round.
In the month of February, we compiled this bi-weekly. Now that the NFL Scouting Combine has officially concluded, we'll be doing this on a weekly basis leading into this year's NFL Draft.
Here's a look at the third edition: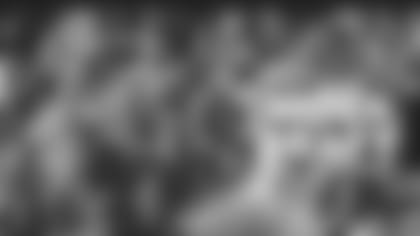 Expert: Matt Miller, Lead NFL Draft Writer
The pick(s): Auburn cornerback Noah Igbinoghene (second round), Georgia offensive tackle Isaiah Wilson (third round)
Notes: Igbinoghene began his college career at wide receiver before switching over to cornerback heading into the 2018 season. He emerged as a starter in the process, doing so as a sophomore and a junior. He was also a starting kick returner as a junior, giving whichever team selects him added special teams value. The Trussville, Alabama, native collected 42 tackles and seven pass breakups at cornerback and had a school-record 96-yard kickoff return for a touchdown vs. Minnesota in the Outback Bowl during his final season at Auburn. Igbinoghene also posted a 4.48 40-yard dash at the combine last week.
An All-SEC second team selection by the Associated Press, the 6-foot-6, 350-pound Wilson has "elite size and length" according to NFL Media draft analyst Lance Zierlein. Wilson was part of an offensive line that helped Georgia produce the third-most total yards of offense in the SEC last year.
Expert: Charlie Campbell, Senior Draft Analyst
The pick(s): Utah running back Zack Moss (second round), Michigan State defensive end Kenny Willekes (third round)
Notes: Including this edition, Campbell updated his mock draft twice since the last roundup. On Feb. 24, he had the Rams selecting Notre Dame defensive lineman Julian Okwara in the second round, then switched his projection back to Moss – the same player he selected on Feb. 17. Campbell still has Los Angeles addressing defense with one of their early picks through the selection of Willekes.
The 2019 Pac-12 Offensive Player of the Year, Moss posted a team-high 1,804 all-purpose yards for 138.8 yards per game – an average also good for 14th-most in the FBS and second-most in the the Pac-12. He was also No. 13 in the FBS and No. 1 in the Pac-12 in rushing touchdowns (15), No. 22 in the FBS and second in the Pac-12 in rush yards per carry (6.0), No. 14 in the FBS and No. 1 in the Pac-12 in total rushing yards (1,416) and No. 12 in the FBS and first in the Pac-12 in rushing yards per game (108.9).
Willekes was a 4-3 defensive end at Michigan State, but he tested at outside linebacker at the Senior Bowl in January, according to the Detroit Free Press. That same story from the Free Press indicates Willekes could receive interest as a defensive or linebacker from teams. That versatility in turn could make him a possible target for the Rams should they choose to not re-sign edge rusher and pending free agent Dante Fowler.
Willekes tied with Iowa's A.J. Epenesa for the 10th-highest vertical jump (32.5 inches) among the 32 defensive linemen who participated in the drill and also tied with Nebraska's Khalil Davis for second-most bench press reps (32) among the 38 defensive linemen who participated in that drill.
Expert: Chad Reuter, Draft Analyst
Notes: Reuter's 3-round mock draft was updated four days after the second roundup was published, and he had the Rams selecting a different Tiger standout in Davidson.
A four-year starter at defensive end, the 6-foot-3, 303-pound Davidson posted 48 total tackles, 12.5 tackles for loss, 7.5 sacks and two forced fumbles in his final season at Auburn, earning second team All-America and first team all-SEC honors. "The team who drafts him will need to determine how best to utilize him because despite his build, he's most effective when playing outside the tackle," Zierlein wrote on his draft profile.